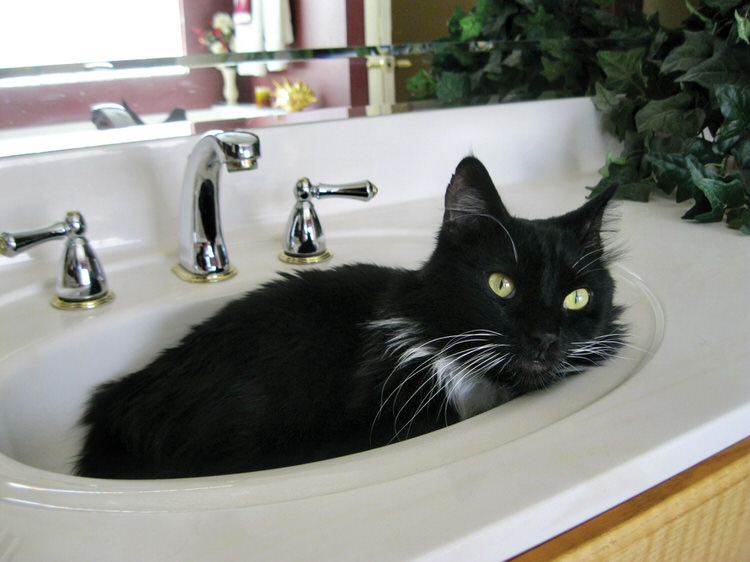 Good day! My name is Sir Maxwell Terry. I am very pleased to meet you. As you can see, I have a fondness for sinks! I have nestled in all six sinks in my master's house except for the kitchen sink, which, she says, is off limits!
I was adopted Dec. 17, 2020, from a cat rescue shelter. I was labeled 'feral,' but I love and crave human attention! My long, white whiskers and tuxedo coat were real eye-catchers. I did demonstrate feral tendencies when I first came into my new home. Many noises were new to me, like the T.V., music, etc. I would search to see where this disturbance came from!
Over the course of a few weeks, I adjusted and only showed some anxiety during the first quarter of the Suns' games! During those moments, I seek out this nice fabric and extend my claws. My master, Joanne Terry, deters me from this 'flaw' by covering all these fabric corners with sticky tape. I hate it! She calls it her 'sticky-tape house.' However, I am much better and I've noticed she is slowly removing this stuff. I then saunter over to my many scratching pads and posts and claw away!
I like to please her by 'shaking paws.' Yes, I learned this doggy trick quickly and get rewarded with kitty treats! She said with a few more tricks she is going to audition me to perform on America's Got Talent! This thought exhausts me, so after a day of eating, napping, clawing, and 'shaking,' I am ready for bed. I jump up on the bed, knead my 'blankie' (while sucking on a piece in my mouth!), then curl up beside my master and dream. I am so thankful I have been given this pampered life. However, my master says she is the fortunate one, as my charming personality and crazy antics have given her happier days!