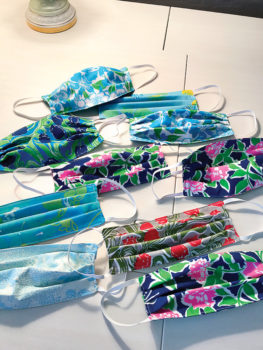 Linda Rowe
While members of the PebbleCreek Quilters Club are used to making items for local charities, no one could have imagined the need to make cloth surgical masks. However, they are rising to this increasing local need. When club president, Ronda Jones, sent out mask patterns and told club members about the need, they quickly responded. Cloth masks are being made for hospitals, chemotherapy centers, and residents of PebbleCreek.
For those who may not be aware, hospitals use two types of masks. First, is the basic paper face mask used to prevent the spread of large large-particle droplets, splashes, sprays, or splatter that may contain germs. Second, is the N95, which has very close facial fit and very efficient filtration of airborne particles such as measles, mumps, chickenpox, and COVID-19. (For an interesting article about face masks see: https://www.wired.com/story/its-time-to-face-facts-america-masks-work.)
Member Judy Frank made the first request for her son, an operating room nurse at Banner University Hospital, who told her masks were being rationed to one mask per shift per nurse. Nurses in low risk areas, housekeepers, and others who normally would not be wearing masks started using them. In an effort to ensure mask availability for those in critical areas, the cloth masks are used in low risk areas and by healthcare workers who normally do not use masks.
Another member, Debbie Arsenault, an ICU nurse at Dignity Health, asked hospital leadership if they would be interested in obtaining cloth masks. The first response was, "Absolutely not." Within a week, they revisited the idea. Many healthcare workers who usually did not wear masks or even enter patient rooms were also wanting masks. The cloth masks are now allowed for use in the hallway only, not in the patient rooms. Debbie was able to take in 30 masks and they were all taken by the end of her shift. Please note: All hospitals require staff to wear the medical grade masks in isolation rooms where patients may have COVID-19.
Various club members started getting requests from PebbleCreek residents. The response was amazing. The quilters began obtaining and sharing elastic, pipe-cleaners (for nose fitting), and interfacing (to make the masks stiffer) and started sewing. When Joann Fabric ran out of elastic, some creative members obtained elastic headbands from the Dollar Store and used them.
Within days, 120 masks were made and delivered to Debbie Arsenault's home. An e-group message was sent and immediately people came to get masks. Debbie and her husband were handing out two masks at a time. In just two hours, the supply was gone. Some residents wanted multiple masks to send to out of state family members. Although it was difficult to say no, Debbie kept with the mission to focus on local needs.
At this time, the PC Quilters are continuing to make masks. While these masks do not provide the same level of air filtration as a medical grade mask, it is better than nothing and certainly can't hurt. Use of a cloth mask combined with social distancing, regular handwashing, use of hand sanitizer, and not touching your face is important.
Key practices if you use a cloth mask:
1. Do not touch the outside of the mask after wearing it.
2. Remove the mask by placing a finger behind the ear elastic or untie it.
3. Don't lay a dirty mask on a counter or table. Put it in the washer.
4. Wash the mask after you wear it.