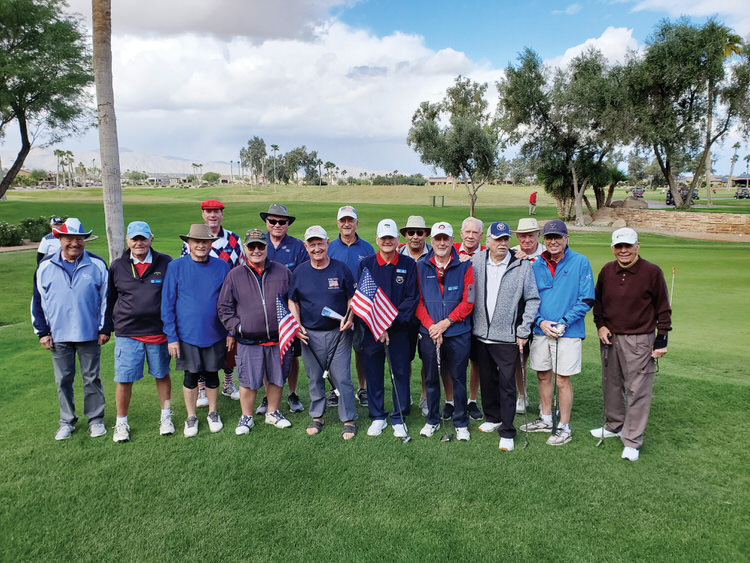 Ken Whitney
The PebbleCreek Men's Nine-Hole Golf Association (PCM9GA) held its annual "Salute to Veterans" tournament on Nov. 3. In addition to expressing thanks and gratitude for the service of the club's veterans, a special moment was observed to note the passing of PCM9GA member Gary Lord, a West Point graduate, Vietnam veteran, and career Army officer. The golf format called for four-man teams with high-low net scoring, but after arriving at the first hole, strong winds, heavy rain, and nearby lightning forced a halt to the tournament.
Better weather prevailed at the "Welcome Back Snowbirds" tournament held on Nov. 10. The four-man scramble hosted 29 teams on the Eagle's Nest front and back nines. The "Snow" flight on the front nine was won by the team of Anthony Staley, Rene Lefebvre, Bruce Dice, and Michael Douglas. On the back nine the "Bird" flight finished in a four-way tie for first place. The tie-breaker formula ultimately identified the winning team of Joe Duch, Randy McConaughey, Ken Laychak, and Nick Isenhart. The competition concluded with a get-together held at Sunrise Park.
In addition to regular stroke play, the Niners looked forward to the CHA-CHA Tournament on Dec. 8 and the annual Holiday Party on Dec. 11.