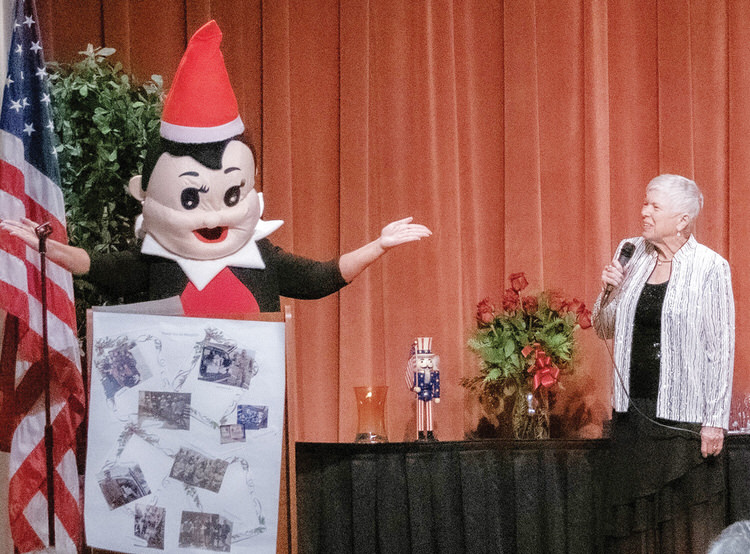 Sheila Snyder
"The joy of brightening other lives becomes for us the magic of the holidays."—W.C. Jones
And magical it was! The PebbleCreek Republican Club (PCRC) "Celebrating the Holidays" event was definitely a night to remember, with overwhelming evidence that those attending certainly did experience joy and magic. Members had the opportunity to enjoy great conversation, tasty food, and splendid entertainment. Delicious hors d'oeuvres, hilarious comedy, and the best sing-along ever this side of Santa's Village created a festive holiday atmosphere. Laughter pealed throughout the ballroom the entire evening, like melodic bells ringing "joy to the world!" Mike James, an international comedian, kept his promise to tickle our funny bones. His hilarious view of life provided lots of unique comedic moments. The playful sing-along, with music provided by talented pianist and member Bob Wikstrom, added sparkle and fun to a wonderful get-together.
One of the highlights of the evening was the introduction of the Executive Board Members, and the introduction of the two new officers, President Patricia Moore and Treasurer Linda Sweet. Outgoing President Sue Harrison was given a sincere thank-you for all her hard work, and presented with a dozen red roses tied with a red ribbon and a stand-up plaque in recognition of her many years of leadership and dedication.
Other highlights included an overview of the club's Holiday Giving Project. The project collected over $6,000 in gift cards donated by club members, which were presented to the Luke AFB Comprehensive Support Council, by a very special elf. The gift cards will be used to help with the everyday costs of our military families.
PCRC promises a new year full of many fun and educational opportunities. For more information, be sure to check out the club's website at pebblecreekrepublicanclub.com.