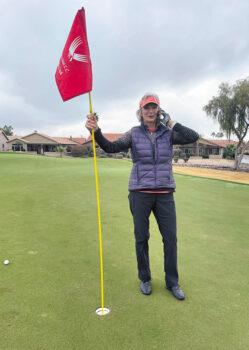 Carole Schumacher
Maxine Rivard scored her first hole-in-one on Dec. 20, 2022, at Eagle's Nest on hole number 8. She was accompanied by friends Bobbie Wagner and Liz Wenzler.
The girls were having a good time and Bobbie teed off first and came within 18" of the hole and said, "Time for a hole-in-one!" So, Maxine took her seriously!
This reporter thinks Maxine must have been calling the golf gods to say thanks! Congratulations, Maxine!