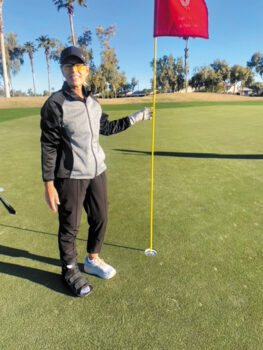 Carole Schumacher
Tina Fisher scored her second hole-in-one within 60 days at Eagle's Nest on Feb. 7, 2023! An early shotgun start with friends Jeanne Corn and Myanna Isaak seemed uneventful until reaching hole number 17, where she stepped up and used her knock down wedge to sink her Callaway Warbird ball in one stroke.
This is Tina's third hole-in-one. What makes this even more spectacular is that she was wearing her boot on her right foot. I'll have what she's having (minus the boot)!
Congratulations, Tina!