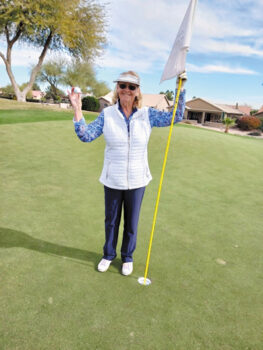 Carole Schumacher
Linda Thompson scored her second hole-in-one on Jan. 10, 2023 during PCLGA league play at Eagle's Nest on hole number 8. She was accompanied by her teammates for the day—Jeannie Alvarez, Diana Wolf, and Carol Adkins.
The white flag was 130 yards away and Linda thought she saw it drop, but was fairly sure it was likely "behind" the hole. Two of her teammates saw it too and assured Linda it was "in the hole!"
This was the second HIO during league play in 2023 on hole number 8 at Eagle's Nest with Liz Mitchell scoring one the week prior to Linda's, and Maxine Rivard finishing out 2022 on Dec. 30 with her HIO on the same hole!
"My first hole-in-one was at the Auburn Golf Course in Washington," said Linda.
"I went to the bar as soon as I finished, and told them to run a tab," Linda said. "I was somewhat lucky that we played at 1 p.m. that day, so many ladies went home after play. My bar tab was a bit over $150. More importantly, I had some wonderful ladies celebrate with me for my special day!"
Now if Linda would have paid into that hole-in-one insurance option for PCLGA, it would have only cost her $50. Next time, Linda!
Congratulations!