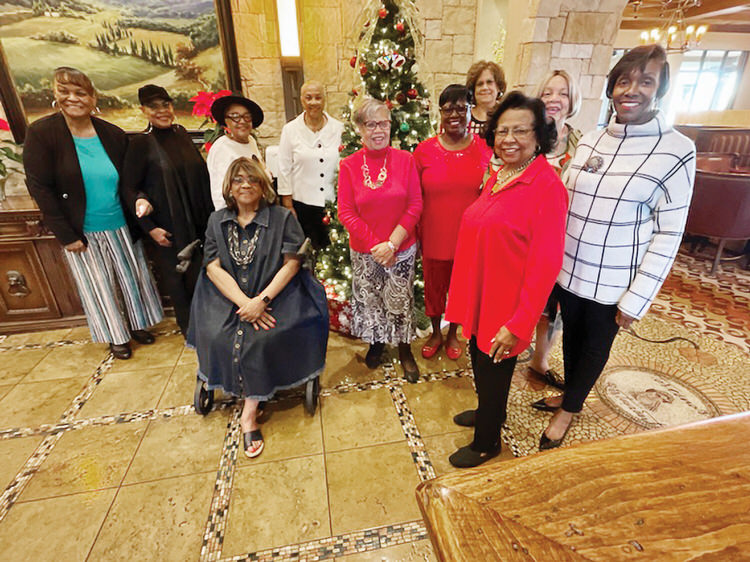 Linda Davis Watters
On Dec. 1, the Women's Bible Study Group (WBSG) of Just Folks celebrated their 7th Anniversary with a lovely Christmas Luncheon in the Tuscany Restaurant Boardroom. The WBSG was established to bring together women who share a common interest of learning and uplifting the word of God through fellowship at monthly study sessions. The WBSG is a close-knit group of women who have developed strong friendships over the years. As such, when a member is in need or requires assistance, the WBSG responds to provide aid and support. During the luncheon, the WBSG paid tribute to a beloved member, Cynthia Bush, who passed away recently. She will be missed.
The WBSG has studied the lessons of five prolific authors whose books have heightened the group's understanding of the Bible. They include Women in the Bible by Ann Spangler and Jean E. Syswerda, The Armor of God by Priscilla Shirer, The Gospel of John by Max Lucado, Angels All Around by Marilyn Hickey, and 40 Days of Prayer by Pastor Rick Warren.
The Christmas Luncheon Chair, Jean Allen Gwyn, created stunning table decorations, festive linens, and elevated holiday centerpieces. The sideboard was decorated with a beautiful anniversary cake and study books strategically placed on easels.
The luncheon ended with a bang—skits! Each member, paired with a partner, performed a skit depicting the characters in one of the study books. All the skits were performed with enthusiasm, skill, and were accompanied by themed props and costumes. The luncheon was enjoyable and a lot of fun.
The members of the WBSG are Emma Mosley (organizer and leader), Edrena Alexander, Nadine Martinez, Sandria Simmons, Brenda Early, Clarisa Harper, Jean Allen Gwyn, Linda Davis Watters, Sandra Merriweather, Sharon Deering, Dorothy McAlister, Juanita Kearney, Geri Neal, Pat Rodgers, and Phylice Walton.
The WBSG members look forward to the 2023 season of Bible study with The Book of Revelation Made Clear by Tim Lahaye and Timothy E. Parker.