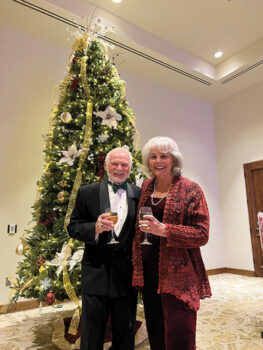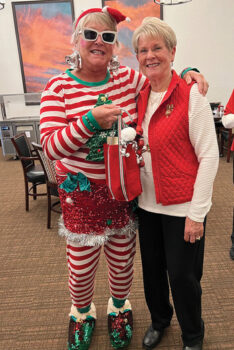 Donna Gillen
The PebbleCreek Tennis Club generously supported the New Life Center this December through monetary and household needs donations. The New Life Center is the largest domestic violence shelter in Arizona. According to the center's website, it serves more than 1,000 women and children. The drive was held at the Holiday Dinner Dance on Dec. 4. This year the club helped out by supplying the New Life Center with needed household items to help with the transition for women of domestic violence who are sheltered in the west valley along with monetary support for the center.
The dinner dance was held in the Tuscany Falls Ballroom. Guests enjoyed Tuscany chicken, short ribs, or balsamic portabella steak prepared by the chef at Food and Beverages. The night continued with dancing to the tunes performed by the band Highway 85. This was a lovely event to celebrate the season and to help out those in need.
The club is thankful for all the generous donations received from members of our community.
Additionally, on Dec. 3, the Stingers Women's Tennis Team enjoyed their annual holiday party at the Eagle's Nest restaurant. The event included entertainment by Jo Terry and Jude Tarkowski, as well as Debbie O'Grady. These ladies brought lots of smiles and joy to this upbeat gathering.
The team also made a generous donation of $520 to the Agua Fria Food Bank, as well as $250 to the Pet Companion Club.
As Norma Whitley phrased, "It is in sharing and giving that makes for a beautiful holiday season." This extraordinary team wishes all of you a Happy New Year.