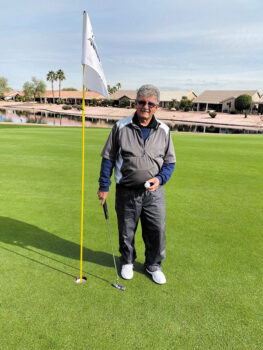 Howie Tiger
Norm Munger made this terrific shot during the last 2022 PebbleCreek Men's Golf Association (PCMGA) golf event. As such, Norm qualified to share in the annual hole-in-one prize along with Tom Sandgren, Mike Christensen, Tim Niccum, and Larry Burnson.
The 13th hole was playing 134-yards from the white tees to a center-right pin position. Norm hit his 24-degree hybrid with a low trajectory shot that was hard to see due to cloudy conditions. Norm thought he hit it on the green. His playing partners, Mark Handzel, George Nelson, and Ed Bobigian had all hit the green, but Norm only saw three balls. Ed was the first player to arrive at the green. He checked the hole and yelled, "Yeah, it's in the hole!" Norm made a hole-in one. High fives and cheering ensued!
This was Norm's fourth hole-in-one in his 32 years of playing golf. His first one came in 1998 at the Riviera C.C. in Anderson Island, Wash. His second came one year later at that same course. His third came at Eagle's Nest hole number 4 in 2013.
Norm grew up in northern Washington and attended Bothell High School in Bothell, Wash. After graduation he joined the U.S. Navy where he was stationed in the Far East. He served on the USS St. Paul, a heavy cruiser that was designated as the flagship of the 7th Fleet. We thank him for his service.
After his hitch in the navy, he started as an apprentice blacksmith in the shipbuilding industry. He became a member of Local 104 Boilermakers and worked as a blacksmith for 35 years. He retired in 1997 and built a retirement home with his wife Diane on Anderson Island, where they lived for 10 years.
Searching for better winter weather, they considered snow birding in Palm Springs, the winter home of several friends. Luckily, Diane saw an advertisement for PebbleCreek in a magazine and requested their video. They loved what they saw and purchased here in 2001.
Congrats to Norm on this great shot!