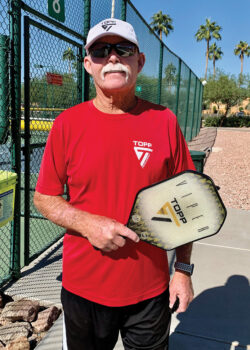 Cynthia Schwartz
Mark Clark was a traveling Air Force brat living in Oklahoma, Germany, California, and Japan. Growing up, Mark's passion was sports, and he dreamed of flying fighter jets. He earned a B.A. degree in Physical Education from Florida State University, enlisted in the Air Force, and went on to do what he really wanted to do—fly the F4 Phantom II, a two-seat long-range supersonic jet interceptor and fighter-bomber.
Mark was assigned to the only Royal Squadron in the United States Air Force. Stationed in Soesterberg, a Dutch air force base, this elite unit supported the queen of the Netherlands and the House of Orange. Mark commented, "In the event that the Russians or East Germans were to attack Europe, our mission was to provide air superiority for the queen of Holland and NATO."
While in Holland, Mark met his future wife Debbie, and he got to pursue his love for sports. Mark played centerfield on the military fast-pitch softball team, traveling to England, Spain, Belgium, Italy, Holland, Germany, and Greece. Mark became an expert skier on the slopes in Europe, Asia, and the United States.
He moved to Spangdahlem Air Base Germany, flying air-to-ground and nuclear missions. "To keep up our military proficiency, and since the weather was so bad in Germany, we spent six weeks out of every six months in Spain, Italy, or Turkey. Fortunately, we never had to drop a nuclear bomb, but we were on 15-minute alert."
Mark taught navigation at Mather Air Force Base and went on to Los Angeles Air Force Base, running the largest aviation modernization program in the U.S. military. "This $2.6 billion program was responsible for testing and integrating the Navstar Global Positioning System (GPS) into all military platforms." Mark was the commander of a United Nations Peacekeeping Force in the Western Sahara, located between Morocco, Mauritania, and Tunisia. After a 20-year military career, Mark managed Northrup Grumman's military support contracts and contractors for the Space and Missile Systems Center.
After retiring, Mark and Debbie moved to PebbleCreek. He was the vice president and president of the Senior Softball League, learned to play pickleball, and continues to play golf. "My buddies and I played PPP (PebbleCreek Power Pickleball). We were bangers. We played in Sun City Grand, and they killed us. We realized that we needed to learn the soft game." Mark and his partner Dennis Makinen became the first 5.0 players in PebbleCreek. They won Nationals, the Arizona State Championships, and the Huntsman World Seniors tournaments. Mark is sponsored by TOPP Pickleball and named two paddles: TOPP's Viper and Onix's Phantom (after the fighter jet).
Leveraging his physical education background with pickleball expertise, Mark has given free clinics in PebbleCreek, the Valley, and in every state west of Colorado. You will see Mark on the PebbleCreek pickleball courts coaching, mentoring, and teaching PebbleCreek Pickleball Club members. Thank you, Mark.