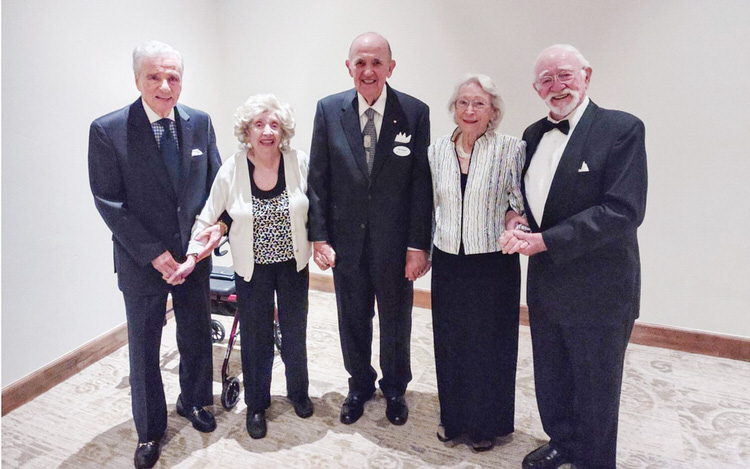 On Nov. 11, 2022, the Tuscany Ballroom was beautifully decorated for the start of the holiday season with the Mistletoe Ball. A special thank you goes out to the committee who brought all of this together—Joanne Benz, Maggie Maas, and Patti Wegehaupt—for all of their time and hard work in creating this amazing celebration. At this annual gala given by the PebbleCreek Ballroom Dance Club, we were able to celebrate the Ballroom Club's 25th Anniversary with its founding members: Richard and Jean Cortes, Vito Gassi, and Keith and Rita Longley. The history of the PebbleCreek Ballroom Dance Club started in 1997 when a group of friends got together to start this heartwarming club for those to enjoy dancing and listening to the sounds of years past.
The gala began with cocktails and hors d'oeuvres in the Chianti Room, followed by a three-course dinner of salad, salmon & filet, and a wonderful holiday dessert in the Tuscany Ballroom. The evening's festivities were uplifted with the well-known band, Soul Impressions, who played music from the current contemporary beats to the well-known and beloved standards. In honor of our military and veterans, a musical tribute was given to recognize our soldiers who danced to theme songs that proudly represented their armed forces. The presiding president, Kathy Pevonka, introduced the new Ballroom Dance Club officers for 2023, followed by a heartfelt thanks to the founding members, the current members, hosts and hostesses for 2022, and all of the guests for joining the festivities of the Mistletoe Ball
Membership renewal starts in January 2023, along with new memberships. For your convenience, new memberships may be purchased at any time when tickets are being sold at the Eagle's Nest kiosk, and you will be given a list of future dances with dates. You can contact Jerry Briner, president, at 623-606-8735 for more information. Membership dues for 2023 have not increased and are only $20 per person, which also provides a discount to the member, over a non-member, for each of the seven dances of the year.
To kick off the new year, please leave the date open for Friday, Jan. 27, 2023. "Come Dance With Us" will be held in the Tuscany Falls Ballroom. Tickets go on sale Tuesday, Jan. 10, at the Eagle's Nest kiosk from 10 a.m. to noon. This event is free to current members and those who wish to join prior to the dance. Tickets for non-members are $15. Cash or check only (payable to PCBDC). Back by popular demand is Play Wilde Duo for your listening and dancing pleasure. A no-host bar starts at 6 p.m., free dance lessons are offered at 6:15 p.m., and the band will start at 7 p.m. These dances are a wonderful way to meet new residents, catch up with your friends and neighbors, and enjoy an evening of socializing and dancing. See you there!