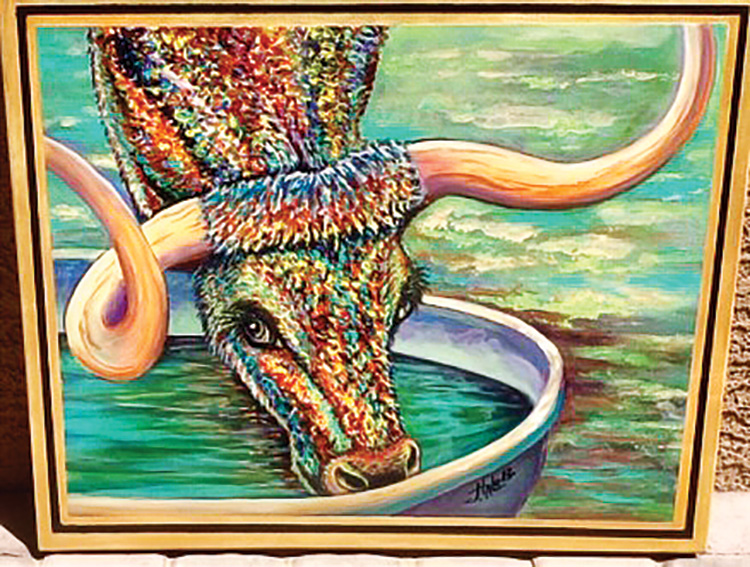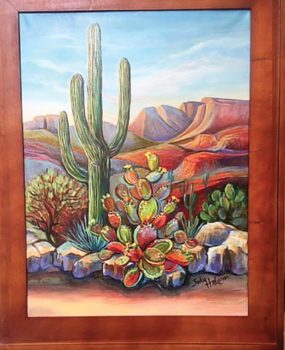 Linda Strauss-Lewis
Did you know that since their inception, acrylic paints have been considered the poor relation of oil paints? Old masters certainly didn't use them. Even traditional, contemporary painters "pooh-pooh" their virtues when compared to the creamy, velvetiness of oil paints.
Well, move over oils! There's a new sheriff in town, but not for the reasons you may think. You're right, of course, that oil paints have been the mainstay medium for traditional artists as far back as the fifth century, but they can't hold a candle to the versatility, flexibility and downright mixability that inspires today's multimedia artists. To paraphrase a popular song, "We just wanna have fun," and nothing makes it easier for artists to create unusual pieces than having acrylic paint as one's starting point. It just says "yes!" to whatever we throw at it!
This article is a continuation of last month's article by Marianne Graff. She discussed the 20th century's most famous contemporary artists who turned to acrylic paint for their innovative interpretations of modern art. And now, we 21st century artists are taking those ideas a quantum leap further!
Besides having attributes of not yellowing or cracking and their ability to dry fast, acrylic paint's chemical underpinnings make it an incredible resource for much of today's new art, including the super-exciting, mixed media collages and paintings that we're experimenting with here at PebbleCreek.
Many of us are replacing traditional realism with "layers of love," choosing acrylic paints as our starting point. We pile on gels, "glue-ons," stencils, leaves, rocks, unusual-performing inks, pastels, Vaseline and toilet paper rolls (yes, even those, depending upon the whim of the artist!). We create thick impastos with all kinds of gimcrack embedded in or on our canvases. We thin down acrylic paints, then pour their sensuous liquid onto canvas to create breathtakingly-colored, non-figurative "pourings."
In fact, acrylic paint's practical qualities have opened the door to such extraordinary creativity, with possibilities so limitless, that they'd blow Rembrandt's mind; though I dare say he'd join right in!
And finally, they've turned us "new-age" artists into recyclers. Our garbage bins are fair game. After all, who knows what lingers therein that might inspire our next painting?
Oil painting is still a mainstay, though today's paint manufacturers produce acrylic paints that come mighty close to emulating oil paint's strongest qualities. But for a new level of bursting, out-of-the-box creativity, nothing provides a more perfect base for the gutsy, glorious, inspiring creativity that's burgeoning a whole new world of contemporary art.
When you next attend a modern art exhibit, take a close look at the mixed-media collages. How many odd materials do you see imbedded in each piece? You'll be quite surprised.
The PC Art Club is featuring our artists' acrylic works all summer in the Creative Arts Center's indoor window displays and in both clubhouses. You'll find traditional work and at least a smattering of the new layered art I've described in this article. Visit our various venues for a very "cool" experience during the long, hot summer!