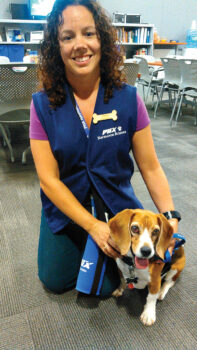 Marge Ellison, Vice President
The Pet Companions Club of PebbleCreek is pleased to have Sarah Brown, representing Navigator Buddies, as its speaker at our general meeting on Wednesday, Jan. 8. Navigator Buddies Team Member, Cheyanne Leeds, and her Therapy Dog, Sophie, will be joining her. We will meet at 3 p.m. in Room 100 of the Eagle's Nest Activities Center. All PebbleCreek residents, whether club members or not, are invited to attend this informative and fun presentation.
Sarah has been a city of Phoenix employee for fourteen years and is currently working as an administrative assistant in the Public Relations Division at Phoenix Sky Harbor Airport.
Many of us may be familiar with the Navigator volunteers during our trips to/from Sky Harbor Airport. They provide directions, information, and friendly assistance. In 2017 Phoenix Sky Harbor began the Navigator Buddies (handler and pet) program in an attempt to turn a sometimes stressful travel experience into a soothing one. The teams work a minimum of 2.25 hours per week, walking all the terminals and offering opportunities for passengers to pet and enjoy some quality time with "man's best friend." The end result is offering assistance, comfort, and a way to reduce stress.
Before becoming a Navigator Buddy, all canine members must be in good standing with a qualified pet therapy organization. Their two-legged companions also undergo an interview, orientation, and three weeks of mentor training. The teams are available at Sky Harbor Airport between 9 a.m. and 7 p.m. and sometimes on special occasions. In addition to providing comfort to passengers, the Buddies Teams also serve as additional "eyes and ears" for emergencies, maintenance, and security concerns. There are currently 54 Navigator Buddies teams.
As usual there will be a box available for donations of pet-related items, such as toys, beds, food (check expiration dates), collars, leashes, animal medications (check expiration date),and  towels. Those items not used for our rescues will be donated to other animal rescue organizations.
Please direct any questions to Marge or Jim Ellison at 623-935-6651.