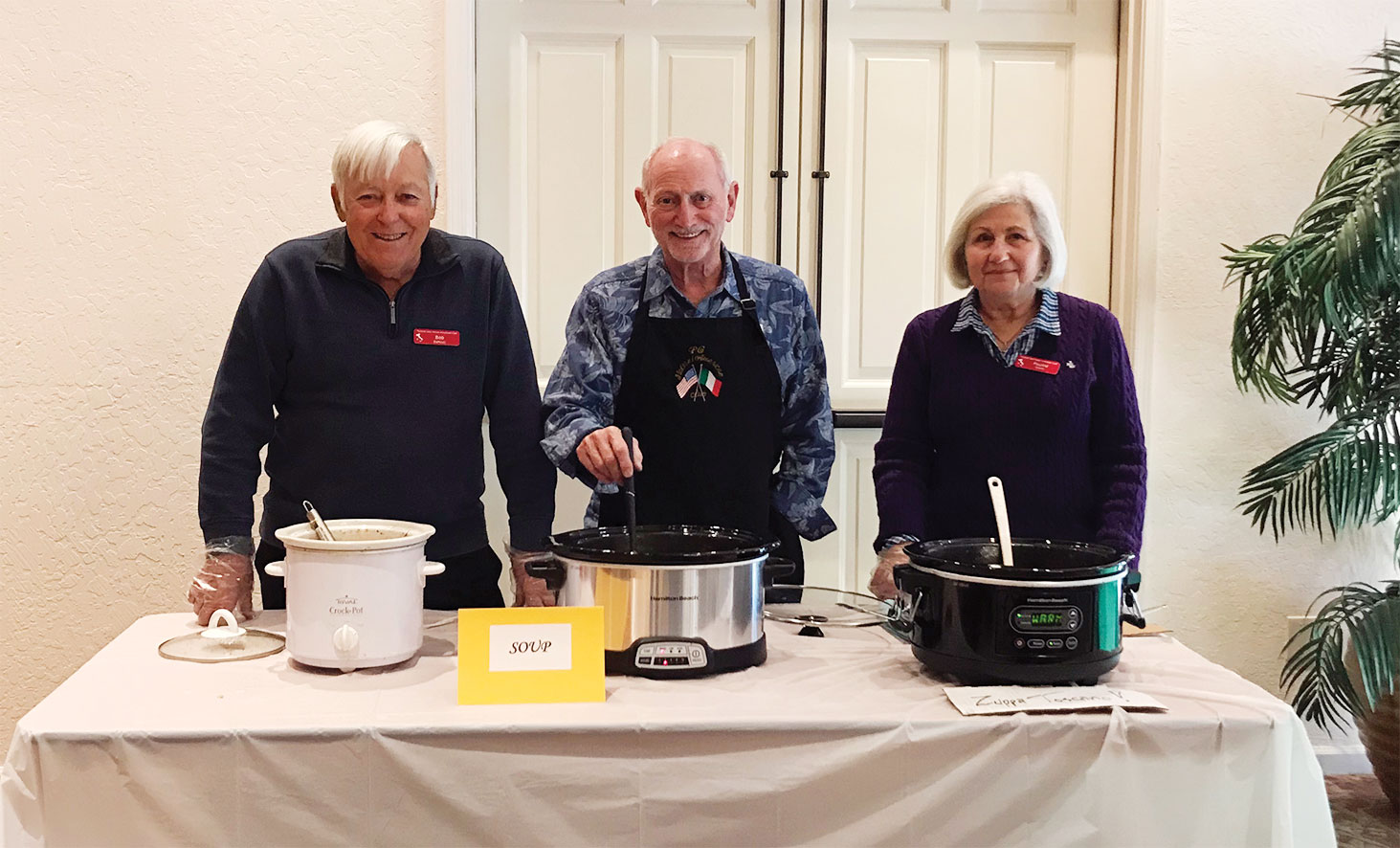 Jim Roberts
Picture yourself in Tuscany near Florence, Italy. It is a quiet autumn Sunday afternoon. The sun is peaking through the scattered clouds, and a soft breeze is drifting through the tall, thin, Italian pines. Nobody is working in the vineyard or the Crush House. The beautiful Sangiovese grapes are hanging heavy on the vines, but the Chianti production will have to wait. The family and friends are coming into the wine estate's villa and bringing the potluck dishes they are each famous for. Some were assigned antipasto, some zuppa (soup), some salad, some main course. Everyone would gather in the main room of the villa to dine on the finest of Italian food preparations. The vino would be on the table, and would consist of superb Chianti, Montalcino, and Montepulciano Vino.
This was the atmosphere when 94 Members of the PebbleCreek Italian-American Club assembled in the Eagle's Nest Ballroom to partake of the best in Italian cooking brought to the event by those members. Events of this magnitude do not just happen. This was no exception. The Steering Committee consisted of Mary Flynn, Karen Cassetta, Carol Sanders, Vera Cappiello, Alice Miller and Club President Ken Minichiello. These individuals did the planning for this event and did it well.
The event was chaired by the effervescent, amiable, and totally capable Pat Atkinson, whose enigmatic energy seemed endless as she deftly directed the event from the podium and out on the floor. Yes, she would leave the podium and go to the various food distribution stations to insure all was well.
The tables were decorated with beautiful flowered centerpieces along with baskets of Italian bread. The event was ready with two lines, one on each side of the room. A special debt of gratitude is due to Tom Orlando, Linda Orlando, JoAnn Fioretti, Gene Fioretti, Ron Behrens, Charlie Miller, Carolyn Minichiello, Roger Sanders and Howard Atkinson for their assistance throughout this event.
Of course, the Italian Food Potluck would not have been a success without the wonderful cooking of the members, whose time tested, and in some cases, ages-old family recipes passed down from generation to generation were presented. They were truly exceptional and most delicious.
Someone suggested the Italian-American Club should change their name to the Italian-American Eating Club. It is true we do enjoy our dining, including our monthly lunches at various local Italian and other restaurants, and our special events like the Poinsettia Ball, the Welcome Back Picnic for our snowbirds returning, the Putt and Eat Event, St. Joseph's Day Celebration that is catered, the Day at the Races that has a wonderful buffet luncheon at Turf Paradise, or the home-hosted dinners enjoyed in the homes of some of our members. Dining is an important part of our culture.
If you would like to join us, we would love to have you. Contact our President Ken Minichiello at 623-217-2173 or 419-356-4010, or email [email protected].