Carole Schumacher
During PebbleCreek Ladies Golf Association (PCLGA) play at Tuscany East on Dec. 28, 2021, Sue Abercrombie scored her second hole-in-one. The game for league play that day was four corners from the yellow tees. Just because it's a short distance to the hole doesn't mean the game is any easier to score in.
Sue doesn't remember what club she used on the par 3 17th hole but recalls it wasn't very far, so it must have been her pitching wedge. Sue's team, consisting of Abercrombie, Jackie Christianson, and Carole Mathias, finished the day in first place in their flight at 17 under par net. It must have been a lucky number 17 day!
Upon ending her round, Sue met up with special PCLGA golf friends at Toscana's to celebrate. Congratulations, Sue!
Josh Rabinowitz
Fred Dresser
Can you believe it? Another PebbleCreek Senior Softball Association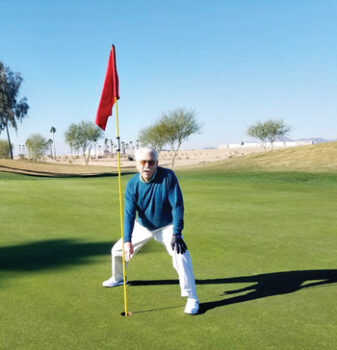 (PCSSA) member records a hole-in-one!
On Jan. 7, Josh Rabinowitz scored a hole-in-one on the 245-yard par four seventh hole at Tuscany Falls West. His weapon of choice was his trusty driver. A hole-in-one on a par four is called a double eagle.
Josh now joins fellow softball players Craig Hauger, Al Gragnano, and Fred Schmidt, who also have recorded hole-in-ones. I'm sure the adult beverages were flowing after the round.
Congratulations, Josh.