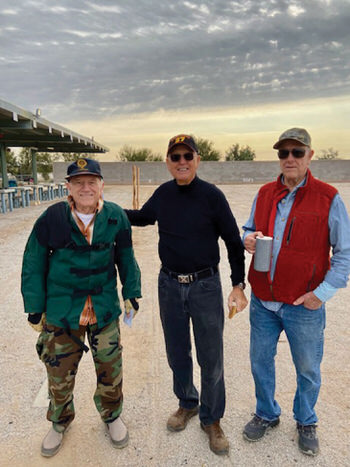 Vicki Ray
Members of PebbleCreek's Gun Club gave it their best shots Dec. 2 at the club's yearly pistol competition. Ninety-one-year-old Richard Cameron shot a perfect score of 100 in the 80-plus-year-old classification. Tom Gallob also placed in the 80-plus group and the rimfire contest shooting scores of 95 in each. Congratulations to this year's winners!
80+ scores
1st place—Richard Cameron, 100
2nd place—Kirk Harrison, 97
3rd place—Tom Gallob, 95
Rimfire scores
1st place—Tom Gallob, 95
2nd place—Roger Bunting, 91
3rd place—Scott Wood, 90
Centerfire scores
1st place—Bob Lukes, 87
2nd place—Arty Bartlett, 87
3rd place—Mike Priebe, 86
Shooters of all levels, beginner through expert, are welcome to join us for trap/skeet shooting Tuesdays and pistol/rifle shooting Fridays at Joe Foss public shooting range near Buckeye. Contact Jerry Younker, club president, at [email protected] for more information.