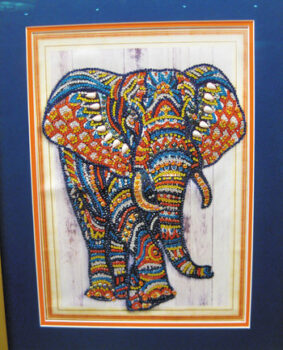 Emily Grotta
The Fall Fine Art Show is one of PebbleCreek's most popular events, as residents and guests stroll the Tuscany Ballroom and view the artwork of more than 50 talented artists in the PebbleCreek Art Club. Attendees receive a free glass of wine and enjoy the music of "Happy Hour" during the show. This year's event is Oct. 14, with free tickets available starting Sept. 1.
Original paintings, drawings and sculptures will be available for purchase in oil, acrylic, watercolor, ink, graphic and colored pencils, mixed media, and fiber clay. You may just find the perfect addition to your home and have the added pleasure of personally knowing the artist. All the artwork—except those in the works in the "emerging artist" category—must be the original work of the artist to be included in the show.
One of PebbleCreek's most popular events, admission to the show is limited to 175 people per hour. The free tickets, which are available beginning Sept. 1, are quickly claimed, so we recommend you reserve your place early at the Art Show website, www.pcartclubshows.com. Tickets are available during four time slots: 3 to 4 p.m., 4 to 5 p.m., 5 to 6 p.m., and 6 to 7 p.m.
This year, artists were challenged to create one piece of art under the theme "Back to the Classics." What does that mean for you? A Model T? Chesterfields? A Barbie? Gone with the Wind? See what the creative artists of PebbleCreek have decided to show you.
The Art Show would not have been possible without the generosity of our sponsors, whose donations cover the cost of the show. We thank these generous individuals and vendors.
Gold—$500
Arete Financial Solutions, Wealth Management and Tax Preparation
Desert Sage Landscaping
Lupo Airport Services
Rapid Roofing and Pigeon Control
Sophie M. Shrum, Realty ONE Group, Realtor, GRI, MRP
Southwest Golf Carts
Silver—$300
Argent Solar, Charlie Miller
Catitude Arts, Art Education, Bonnie McDonald Lewis
Haircutters In the Park
Osborne Jewelers
PebbleCreek Air Conditioning and Heating
Pino's Construction
Bronze—$100
Blick Art Materials
Diana Horton-Smith, Juice Plus
Empower Nails and Spa
Legacy Advisors – Raymond James, Financial Advisor
Patrons of the Arts
Emily Grotta
Gustafson Family
Lisa Joseph
Betty Jean Kennedy
Loretta Pruett
Carolyn Suttles
Donors
Nothing Bundt Cakes
Tree of Oil
Raffle
$850 Kinetico Water System
The Art Club, which was founded 30 years ago and is the oldest club in PebbleCreek, provides residents with the opportunity to explore the fine arts. Whether you are a person who "can't draw a straight line" or a seasoned artist with years of experience, we urge you to explore the opportunities available to you. Please check our classes and other information at www.pcartclub.org.
A wide variety of original works are available at the Fall Fine Art Show. Last year's winners included:
"Gala Trio" by Betty Jean Kennedy, First Place, Pastels
"Splat" by Sylvia Armstrong, Second Place, Mixed Media
"Tempting Textures" by Judy Bihary, First Place, 3-D