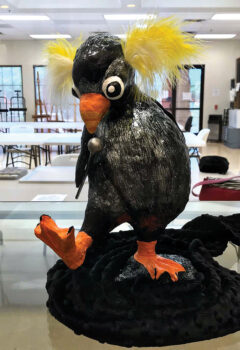 Sherry Blatner
Who could imagine 33 years after his death, "The Great One" would be immortalized anew by gifted artist Judy Bihary in PebbleCreek. Her charming fiber clay piece is entitled "Tribute to Jackie Gleason (And Away We Go)." Judy has worked her magic in a different medium for this tribute, but I daresay his figure would work well in her typical medium, gourd art.
The work is exhibited in the Creative Arts Center (CAC), which is still closed to all but members of the official arts clubs, who rotate use of the studios on a fixed schedule. Someday, when the CAC is open to all and the Gallery reopens, remember to travel along the building's hallways to admire changing exhibits from all the clubs. In September, the Open Beading Club exhibited their work in a showcase window, admired by a lucky few. Someday, the necklaces and bracelets displayed will be for sale in the Gallery. The items selected for display included woven bead bracelets, strung bead and pendant necklaces and bracelets, and kumihimo bead necklaces and bracelets.
Halloween is on the 31st, I know we'll all be masked up even if not in costume. Stay healthy everyone, and look forward to shared artistic adventures in the future!