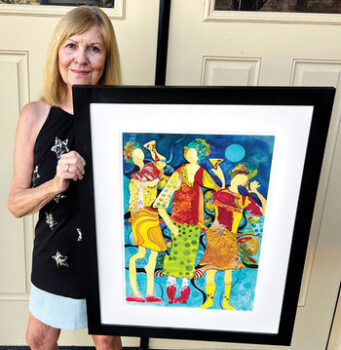 The PebbleCreek Art Club is pleased to announce that Kathy Sork is the November Artist of the Month, the second time she has been honored with this award.
An Army brat, Kathy was born in the Philippines and lived overseas in early childhood. When her father retired, the family moved to Bellevue, Wash., where she grew up along with her two brothers and a dog.
She met her husband Greg on a weekend getaway with a girlfriend to Portland, Ore. He lived in Vancouver, and she lived in Bellevue, so after a couple of years of I-5 freeway they married. They recently celebrated 42 years and two children together, a son, and a daughter who died of cancer at age 16.
After graduating from high school, raising kids, and working in the mortgage industry, she went back to school to earn a graphic art degree, although she never worked in that field. It was the classes she took while earning her degree that brought her art to a whole new level.
While her mother would say she always had pencil and paper in hand, Kathy credits the many college art classes and workshops with well-known artists in Washington, Oregon, and PebbleCreek that brought her to a new level in her art. Regardless of the medium—she has worked in watercolors, acrylic, mixed media and collage—her work always has vibrant colors and interesting shapes and lines.
The question she is asked most often is, "How do you come up with this?" meaning her subject matter, the colors she uses, and how her brain works. An intuitive artist, she says it begins with shapes and bright color, and then an idea emerges, often with no preplanning. She credits one particular class where she learned how to connect things together and why. You'll find Kathy every day in her golf cart garage-turned-studio, along with Punky, her 8-year-old rescue dog.
Kathy spent 2-1/2 years living in Japan and loved everything about the culture, which continues to influence her art. A trip to China a few years ago rekindled the Asian influence. Her submission for the 2020 fall art show, 'Painted in a Foreign Language,' depicted junk boats in the harbor, which won a first-place ribbon, one of many both here and in Washington.
A member of Southwest Washington Watercolor Society for 15 years, she served as president for two years and organized its art shows. She volunteered at Doernbecher Children's Hospital in Portland for more than nine years, working with kids and making art.
Since moving to PebbleCreek in 2013, she has been very active in the PebbleCreek Art Club, helping with the art shows, co-chairing the Christmas luncheon, volunteering for the Holiday Fest, and serving as president of the Pottery Club.
Kathy's work will be on display at the Fall Art Show in the Tuscany Falls Ballroom on Saturday, Nov. 5, as well as at the Creative Arts Center and both clubhouses.