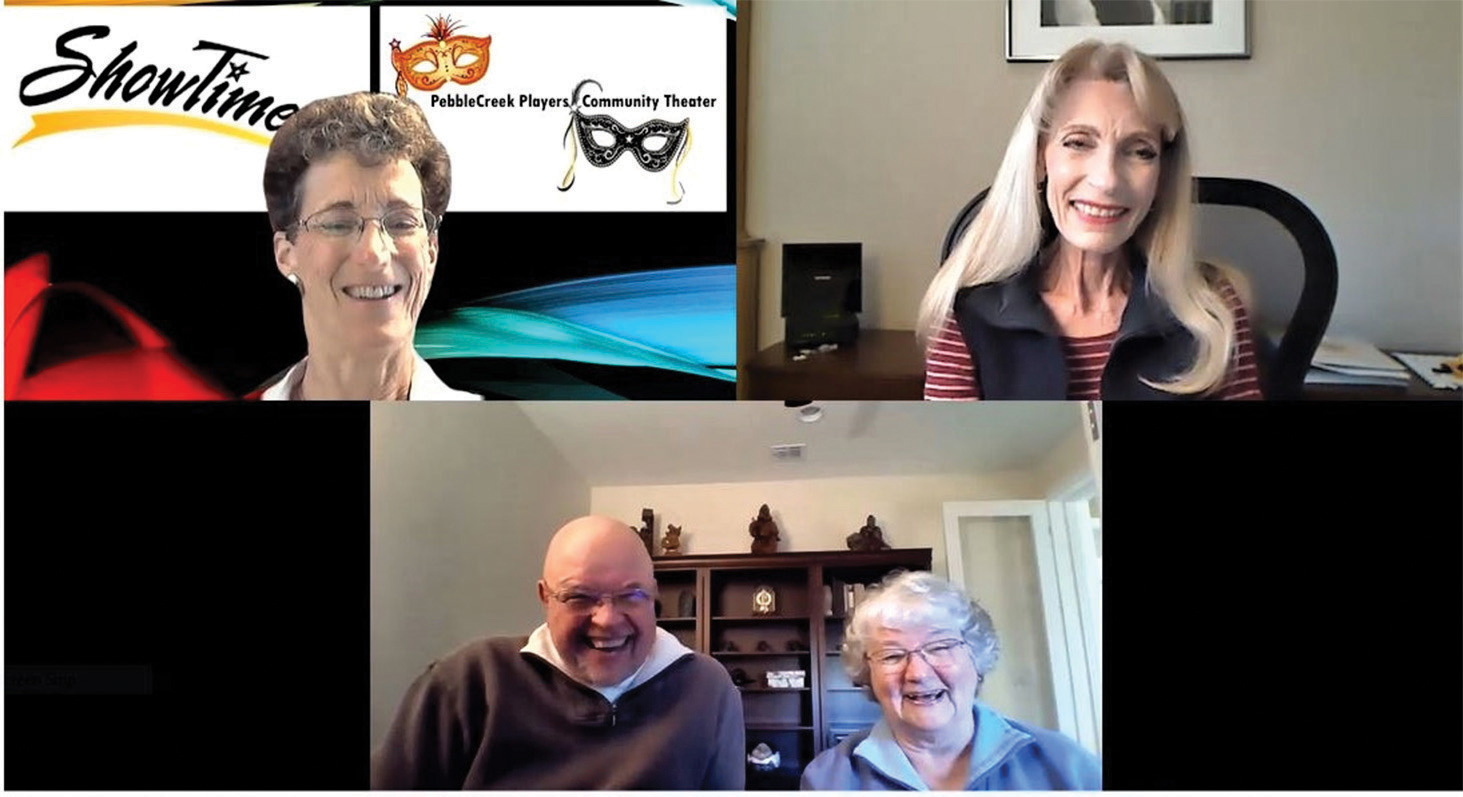 Laurie Farquhar
After three months of watching A (Virtual) Night at the Renaissance Theater almost every Friday night, one couple has claimed the title of most loyal viewers of the video presentations. It also turns out that John and Judy Husk are among PebbleCreek's newest residents.
The Husks, who are new transplants from Cincinnati, purchased their PebbleCreek home last spring just as everything was shutting down because of COVID. They moved here permanently in September, but it's not easy getting to know a community when everything is closed. They read about ShowTime and PC Players' plan to show videos of their previous productions on free Zoom webinars, so John and Judy decided to check out the first show at the beginning of November, and they have watched every one since.
Judy says, "The funny thing is we don't know any of the people who perform and we like hearing the stories beforehand. It's been very enjoyable… and we have enjoyed all of them." Their favorite video to date? Celebrating Ed Sullivan because it reminded them so much of watching Ed Sullivan with their families when they were kids.
John and Judy are both avid theater goers and are looking forward to when the Renaissance Theater reopens. Judy says her talent is being an enthusiastic audience member, but John may, someday, be on stage. He says he performed with a musical group all through high school, singing at events in his hometown and neighboring communities. He says they had, "A great time. Loved doing that stuff."
In the meantime, the Husks will try to keep up their perfect attendance as A (Virtual) Night at the Renaissance Theater video nights continue. As always, these free Zoom webinars are open to all PebbleCreekers, and here is the line-up for March.
Friday, March 12: Social Security A New York City couple, owners of an East End art gallery, find their lives upended when her despondent mother comes to live with them. But then her mother finds love.
Friday, March 16: Hello Dolly The classic musical about Mrs. Dolly Levi, the meddling matchmaker, who helps others and herself find love.
Each presentation begins at 7 p.m., but it is even more fun if you log in at 6:45 p.m. for the BackStage Talk pre-show, when host Melissa Kallett chats with some of the cast and crew members from the production about the challenges and/or unexpected things that happened backstage.
A link for each webinar will be available in the Monday PebbleNews, on the HOA website under club announcements, and in emails sent to the PebbleCreek Egroup on Sundays and Wednesdays. On show night, just click the link in any one of these locations. You will be asked to enter your name and email address and then you are in. It really is that easy. There is no need to download an app.
We all miss being able to go to the Renaissance Theater, but these webinars are your chance to enjoy performances by some of PebbleCreek's talented actors, singers, and dancers. If you are new to our community, the recordings are a sample of what you can expect once the theater doors reopen. Is it possible you might want to try out the footlights yourself, just like John?