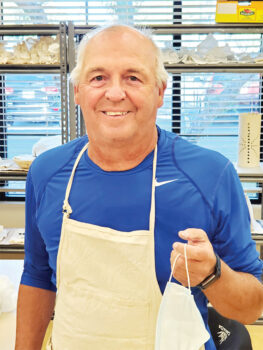 Jeff Wilson
The Pottery/Sculpture Club featured artist for January is Dennis Carter. When interviewed for this article Dennis said, "Who would have guessed that a firefighter from Toronto, Ontario, Canada would retire and come to PebbleCreek and take up sculpting clay?" We are glad he did.
Dennis and Vicki Carter moved into PebbleCreek in 2010 and immediately got involved with numerous activities in the community, including pickleball.
Dennis has always had an interest in planning and building projects, but usually large-scale projects like finishing a basement or building an addition on the house. Vicki has always encouraged him to get into the finer things in life, like art. He's not sure she meant getting his hands dirty playing with clay.
In March of 2018, Gordon Cooper, a good friend of Dennis's, asked him to come to the pottery/sculpture room in the Creative Arts Center to see what he was making. Dennis was intrigued by Gordon's sculptures and decided to try his hand making a small chick coming out of an egg for his wife. An appropriate piece since she is a member of the PebbleCreek Tri Chick's.
Dennis has gone on to make beautiful sculptural elements for a totem project that he will be installing in his yard. He has also made several varieties of beautiful flowers including roses, tulips, daffodils, and calla lilies.
Dennis is always looking ahead to the challenge of the next project.
Examples of Dennis's art can be seen in the display case outside the pottery/sculpture room in the Creative Arts Center. While in the Creative Art Center, be sure to stop by the Expressions Gallery to see all the great art created by your PC neighbors.