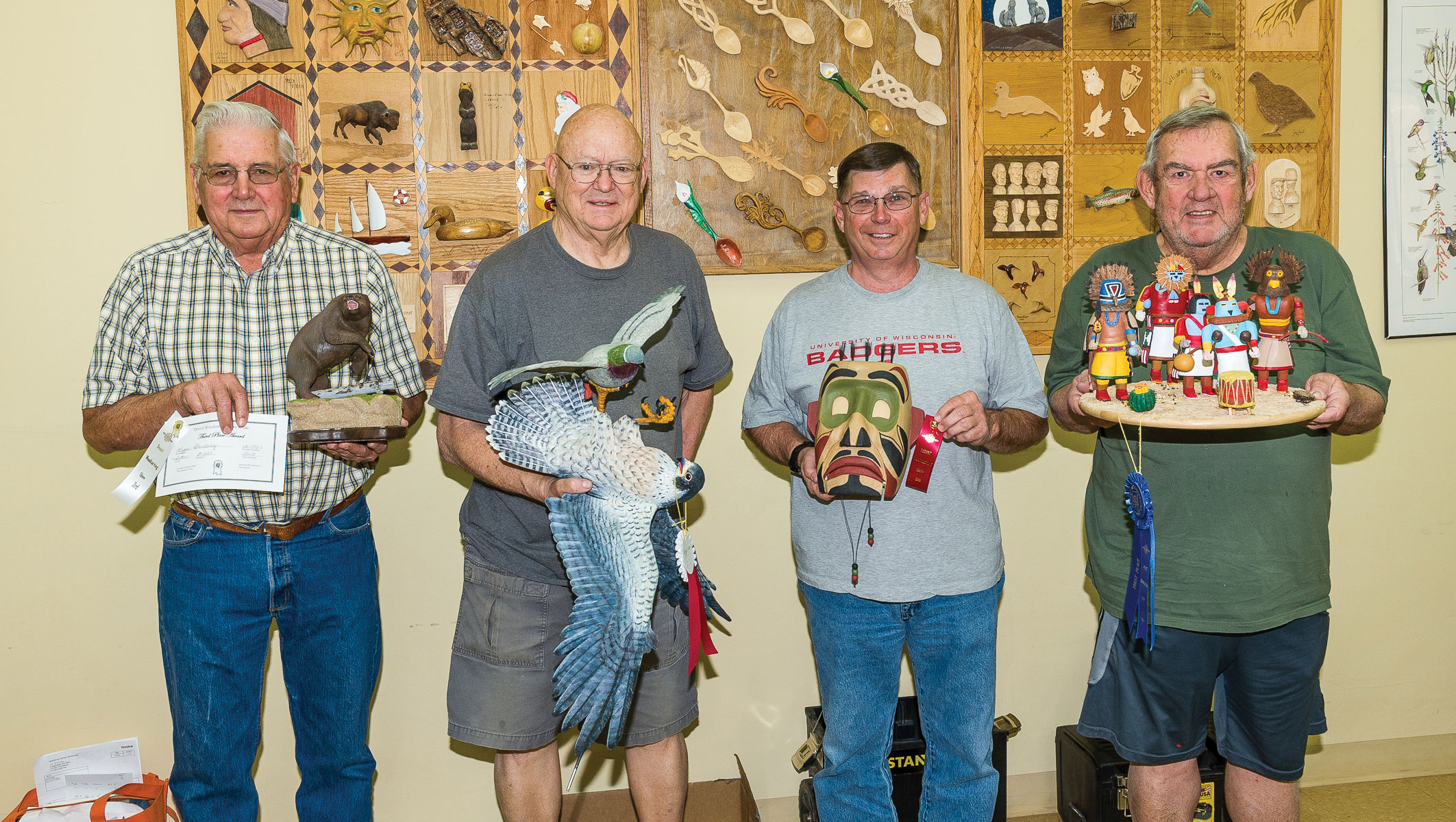 Larry Matney
PebbleCreek Woodcarvers Club members competed in the Mesa Carving Show held on February 10 and 11. The following club members received awards:
Roger Borlaug: Bear received third place in the intermediate class.
Gerald Findley: Peregrine Falcon and Pigeon received People's Choice Award.
Tom Wick: Northwest Indian mask received second place in the intermediate class.
Dale Sevig: first place blue ribbon with rosette for mythical carving and first place blue ribbon for birds. Both awards were in the novice class.
Joel Hawkins: Large Mouth Bass received second place, Peregrine Falcon and Rabbit received second place and Best of Show.
Richard Schmidt:
Eagle Kachina received a first place blue ribbon and second place Best of Show for the carving category in the intermediate class. Bark carving received a second place red ribbon and third place Best of Show for the carving category in the intermediate class.
The Woodcarvers Club meets in the Quail Room in the Creative Arts building on the Tuscany side of PebbleCreek. The club has general meetings on the second Tuesday of each month at 9:00 a.m. from October to April. If you are interested in woodcarving stop by to see completed work and meet club members. Most members have had little or no experience carving prior to taking one of the club's classes. Carving equipment is available for use during your first two classes to see if you like carving.
The Woodcarving Club has completed formal classes for the carving season but if you are a PebbleCreek resident during the summer stop by the Quail Room and there will be someone there to get you started carving. There are projects that will teach you basic woodcarving skills and before long you could have your own special keepsake.
During the 2017-2018 carving season the club has offered the following carving classes: Chess Set Pieces, Comical Owl, Corn Maiden Kachina, Cottonwood Bark Carving, Decorative Spoon, Kachina, Moon Mask, Northwest Indian Helmet, Pumpkin Caricature, Relief Carving and Wood Spirits.