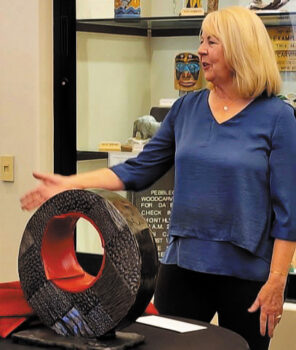 Judi Holdorf
A commissioned sculpture was presented in an unveiling ceremony at the PebbleCreek Creative Arts Center (CAC) on Jan. 28 by PebbleCreek resident Jude Holdorf. She thanked CAC co-manager Cheryl Neel, who commissioned the piece of pottery for the Center.
Although honored to be selected for the commission, Holdorf told the audience that there are hundreds of talented artists creating wonderful art at the Center. She stated, "By purchasing original art, I think it elevates all of us and shows that they (CAC) value art as an important element of a vibrant PebbleCreek community."
Holdorf started making pottery when she moved to PC almost five years ago with her husband Dennis after retiring from a 30-year career in nonprofit work.
"I worked with scores of professional artists in my role as executive director of Quad City Arts, a large Midwest arts agency, but rarely created any art myself. It was too intimidating," she explains. "Since I was new to pottery, I took the beginners' class offered through the Pottery Club. That gave me a good foundation." She also credits her fellow Pottery Club members for encouraging and inspiring her.
Following the unveiling of her sculpture, which she entitled Well-rounded, she presented a donation check for an expansion of the Center. Originally intended for 600 members when it was built in 2006, the Creative Arts Center has more than 1,200 members currently.
"I donated the proceeds from the commission for an expansion of the Center," Holdorf explained. "My hope is that others will make donations, also."