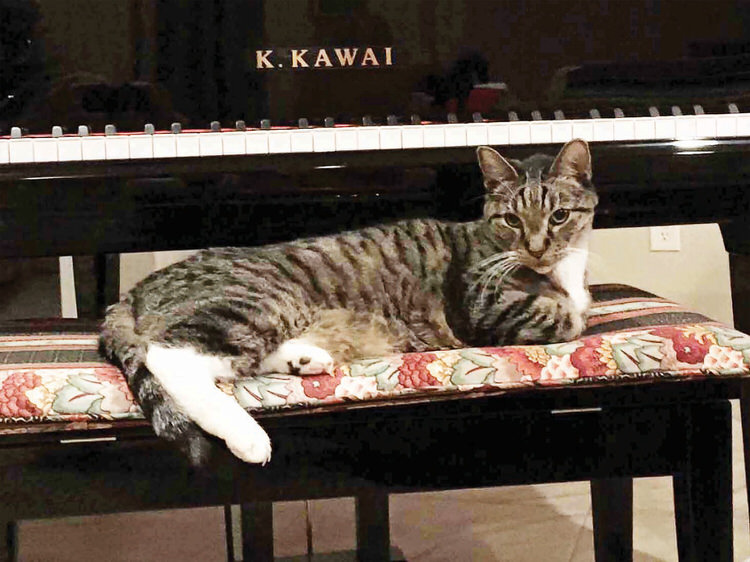 Jim Ellison
I am Chip Sanders, a 12-year-old gray tabby, who moved to PebbleCreek five years ago. I came here from Northbrook, Ill. with my mom, Carol Sanders, and my snot-nosed bratty little brother, Chico, an orange tabby.
I have claws on all paws. I quickly learned from my stern mom not to scratch on couches and upholstered chairs. I sharpen my nails almost daily on the carpet-covered scratching posts and the corrugated cardboard scratching ramps. My little brother, the aforementioned Chico, gets on my nerves occasionally, so I have some secret hiding places in the house. My favorite hideout is at the bottom of the linen closet, and my second choice is tucked under one of the guest beds.
I am a homebody but enjoy looking out the front window of our home to see all the PebbleCreek residents on the street, walking dogs, jogging, biking, walking briskly, or just standing around on the street corner, catching up on the neighborhood news. I often sit next to my mom on the piano bench as she practices her songs, almost daily. Believe me, with her limited piano skills, she needs my moral support.
I am your typical tabby in that I sleep most of the day. In my limited waking hours, I enjoy some noisy toys, cold water, and Temptation treats. I do suffer the occasional hair ball, but, hey, what tabby doesn't? Although I don't get out much, my human girlfriend here in PebbleCreek, Linda Thompson, comes to visit my mom frequently. I am a sucker for tall pretty blondes. I come running when I hear her enter the house and announce in her melodic voice, "Where's my boyfriend?"
I was very close to my dad, Rick, a kind human who died eight years ago. It was hard to get over that loss, but after a few months, I was back to my old self.