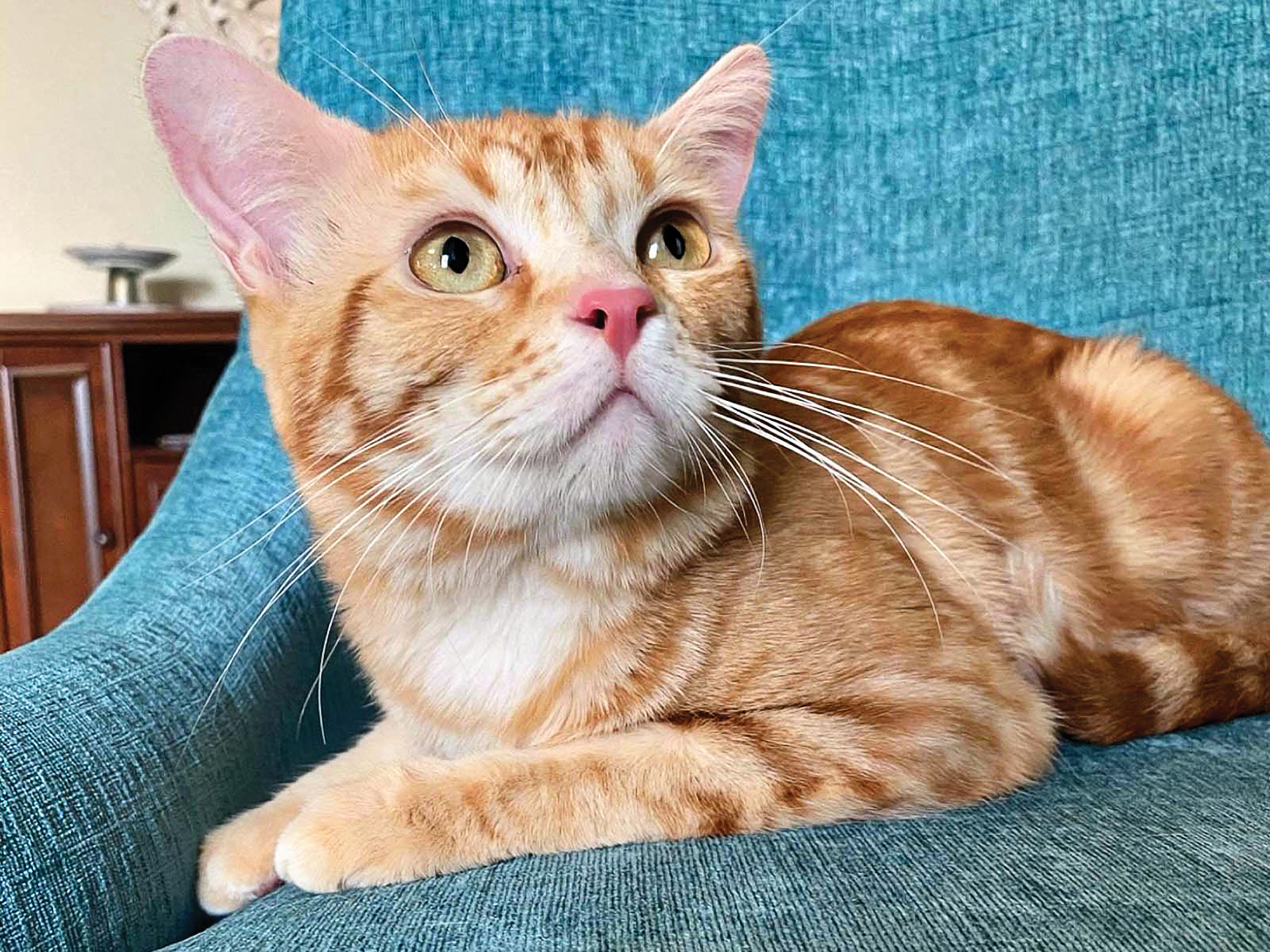 Sue Ann Olsavicky
One evening an ambulance came. As my mom was being taken away on a gurney, I ran outside. I spent the next few days roaming around but finally came home. My mom was really worried. She told me she was very sick and was no longer able to take care of me. She decided she would find me a new home.
Things moved fast! I was put in a carrier and taken away to a foster home. My foster mom set me up in a spare bedroom and even slept with me so I would not be lonely. I was officially a ward of the Pet Companions Club of PebbleCreek, and they were doing everything possible to get me adopted. There followed a few days of vet appointments, where I got all the necessary medical treatments, vaccinations, and even neuter surgery. Then I had a photo shoot where I tried to look adorable.
I didn't know it at the time, but I became a Facebook sensation. It seemed a lot of people thought I would make a wonderful pet. One lady just couldn't stop thinking of me and felt sad because I was in Arizona. She was in New Jersey but used to live in PebbleCreek. Then the most amazing thing happened! A flight attendant offered to fly me to New Jersey.
My escort picked me up at my foster mom's house really early one morning for a trip to Sky Harbor Airport. I was very brave going through security. I stepped out of my carrier on a leash while the TSA people made sure I wasn't concealing explosives. Then we were off to board the plane. I was disappointed not to get a window seat; it being my first time flying. For the next five hours, I was in my carrier under a seat! Once we arrived in Newark, I had to use a litter box badly. Did you know that there are pet areas at the airports? My escort took me to this nice quiet place with artificial grass and a very fresh litter box. What a relief!
Then the final leg of my journey began. My escort had to take the next flight back to Phoenix. She arranged with another flight attendant friend to drive me to my new home. So, in twelve hours, I went from being a foster cat in Arizona to a pet cat in my forever home with Arizona/New Jersey transplants. My new mom was so excited about my arrival that she furnished her whole apartment with all sorts of wonderful cat stuff.
I am so grateful to my first mom, who loved me enough to want me to have the best new life, and all the people along the way who made it possible. My new parents tell me they really needed me and that I bring great joy to their days just by being my handsome, affectionate self.