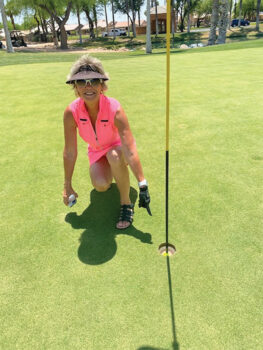 Cindy Sota
On May 14, Karen Stadjuhar hit the best shot of her life. Karen teed it up on the fourth hole of the Eagle's Nest Course with the same club she always uses for that hole. The yardage was 106 yards, and the pin was in the middle. As Karen hit her shot, her playing companions, Jean Ostroga, Chris Cook, and Jan Tuszka, watched as the ball landed nicely on the green and just rolled toward the pin and disappeared! Screams of joy were shared for Karen's first hole-in-one!
Karen and Ed moved to PebbleCreek in 2005. Karen worked for AIG Financial as vice president of regional management in Phoenix. She retired in 2006. They moved from California and became permanent residents of PebbleCreek in 2011. They continue to love their lives here in this beautiful community.
Karen started golfing in 1998 but started playing regularly in 2011. Besides enjoying life on the greens, she plays bridge and enjoys watercolor painting.
Congratulations to Karen Stadjuhar on her first, and hopefully not last, hole-in-one!