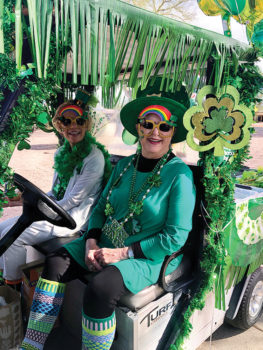 Suzanne Rambach
The PebbleCreek Irish American Club's 11th annual Charity Golf Tournament was held on March 15. A total of 216 golfers enjoyed the day's fun, including prizes for the best Wearing of the Green. This year's designated charities are the New Life Center, Meals of Joy, the Irish Cultural Center, and six scholarships to Millennium High School students to further their education.
Due to the COVID-19 outbreak, the clubhouse and the Food & Beverage Department were closed. The highly anticipated corned beef luncheon had to be cancelled. However, the golfers were given the choice of either receiving a refund for that portion of their entry fee, or donating it back to the designated charities. The club would like to thank the 165 golfers (76%) who donated their lunch cost!
Over 50 companies either sponsored holes or donated items for this event and we encourage our PebbleCreek friends to support these local companies and thank them for their support.
The tournament could not have happened without the hard work of the committee consisting of co-chairs Greg Roth and Mike Harrington and committee members Tom MacKenzie, Rob Risden, Pat Watkins, Rick Savage, Charlie Kice, Les Armstrong, Greg Harris, Mike Moy, Frank Lemmo, Susan Gleason, Bari Cavallo, Maureen Pugsley, Terry Roth, and Lisa Greenhoot.
The volunteers helping on the golf course were Steve and Joan Fafoglia, John and Bernie Peehl, Jan Shields, Jim Couzen, Jim Wolfe, Joe Wolf, Kathy Craig, Linda Shaver, Sandra Hand, Dave Lanigan, Jerry Miller, Rich Shildt, Mike and Teri Davis, and Bob Hislop.
The volunteers at check-in were Roberta Diles (our leprechaun greeter), Donna and Jim Blomquist, Suzanne Rambach, Theresa Carter, Carole and Wayne Garrett, Susan Roth, Chuck Kelley, Brian Gleason, Trish Watkins, and Les Armstrong. Thank you to Bob Higgins and Bob Hislop for their terrific photos. Our "Tarts on a Cart," Maureen Pugsley and Jan Kirk, went out on the course to deliver treats and water to our golfers. Dorie Hedien and Pat Atkinson served beverages from the back patio on the Tuscany Falls East Course. Dave Reinke and Sam Cowan manned the back patio watering hole on the Tuscany Falls West Course.
The Golf Committee worked hard to make this event a huge success and the club would like to thank everyone who gave their time and energy to make the tournament happen!