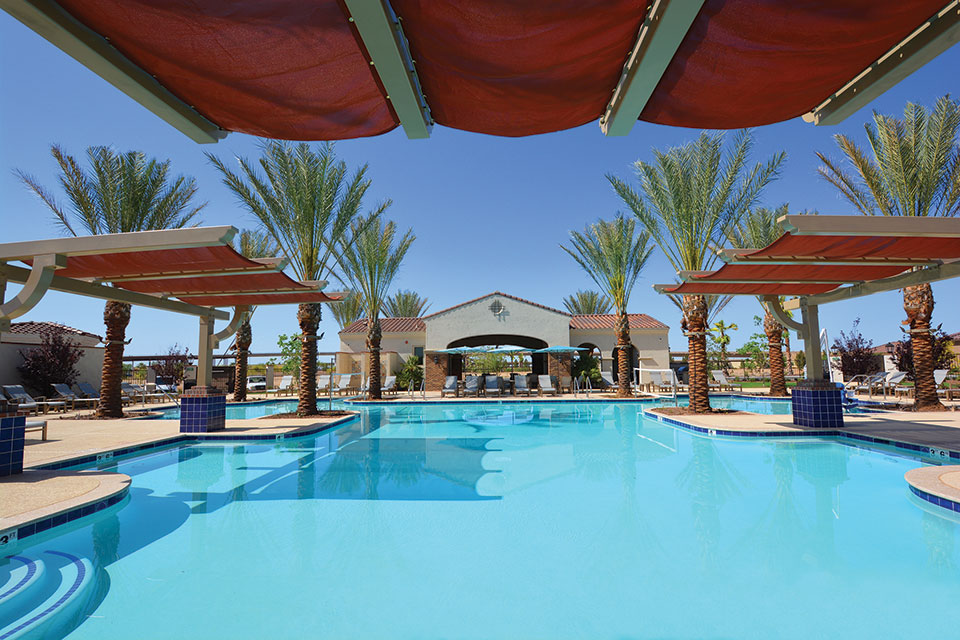 Sherry Jackson, RCI Corporate Communications
PebbleCreek residents have a new way to keep cool this summer with the debut of the brand new Oasis Pool. The resort-style pool is a new amenity in the southwest area of the community. The Oasis features a large, covered Ramada with lots of seating for social gatherings, plenty of chaise lounge chairs, a BBQ area and restrooms all in a park-like setting with stately palm trees, rose bushes and lush landscaping.
"The new Oasis Pool complex is a great amenity addition to the south area of PebbleCreek," says Laura Keyser, Vice President of Sales at PebbleCreek. "It offers a smaller, more intimate alternative to the main pools in addition to adding a refreshing atmosphere to that area of the community."
The pool also has several cozy spots with in-pool benches and shaded areas, both in and out of the pool. A disability chair lift allows ease of access for those who need it. Two large, outdoor shower stalls (one handicapped equipped) are perfect for rinsing off before heading home.
"Water sports at the Oasis are "party-style," meaning bring your own ball to use one of the two water volleyball nets. A large grassy area can accommodate lawn sports or other recreation activities," says Traci Baker, Director of Community Activities & Communications at PebbleCreek. Two gas BBQ grills are located just off the Ramada-bring your own food.
When visiting the Oasis Pool, there are a few things to keep in mind- There's no smoking allowed, nor any pool toys. Flotation rafts must be of same profile as a swim noodle (no arm/foot rests, cup holders, etc.). All food items must be consumed on the pool deck and all beverages need to be in a plastic container (non-alcoholic only). The Oasis is for adults, 18 or over. Also, leave Fido at home-only service animals are allowed in the pool area.
The Oasis Pool will be open year-round to residents from 8 a.m. until 9 p.m. and will be heated during the winter. The Ramada area is covered with plenty of tables which can accommodate up to 36 people and can be reserved at the Activities Office.