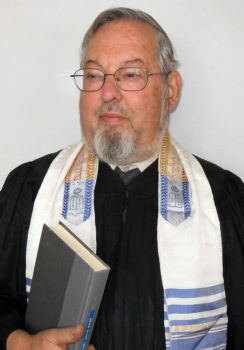 Brenda Hyman
The year passes quickly and here we are announcing 2018/5779 High Holy Day Services here in PebbleCreek. This is our ninth year with our beloved Rabbi David Mayer. Each year we get better and larger in our celebration of these Jewish Days of Awe. The donation will remain at $50 per person-Early Bird Discount (prior to June 1) $60 per person (after June 1). $18 per child (12 years old and under.) The pricing covers all three services and the Kiddish. There are no partial payments. Tickets are not issued. A check-in roster will be used.
Checks should be made out to Committee for the High Holidays (CfHH) and sent to Gloria Kornbluth 15687 W. Avalon Dr., Goodyear AZ 85395. If you are interested in Torah Honors, English Readings, Hebrew Readings, and/or Ushering please let our committee know.
Services will be held at the Tuscany Ballroom on:
Rosh Hashonah: Monday, September 10 at 10:00 a.m. followed by a Kiddish in the Chianti Room
Kol Nidre: Wednesday, September 18 at 6:00 p.m.
Yom Kippur: Thursday, September 19 at 9:00 a.m.
Plan to join your PebbleCreek family for these special holidays. The services are wonderful, the rabbi is awesome and the camaraderie is wonderful.
Any questions? Please contact Marsha Langfuss at ma[email protected] or Brenda Hyman at [email protected].
Shalom!