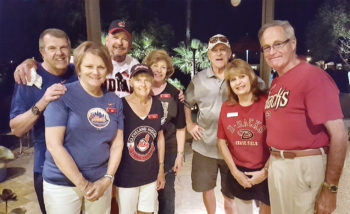 Ken Minichiello
Co-hosts Ron and Thelma Svoboda and Kent and Barb Brace planned and put on a wonderful end of season "Take Me Out to the Ballgame" theme party for the Italian American Club in April. The hosts were helped by Marilu Trainor, Keith Passafiume and Ken and Ann Laychak. The party was in place of the usual club membership meeting at Eagle's Nest Ballroom. A very brief business meeting was held which was followed by a fun "After Social," called Andiamo, held again this year at the home of Ron and Thelma Svoboda.
A perfect night at a perfect place! Ron and Thelma's home easily accommodated almost 100 guests with a seating arrangement for excellent socialization and beautiful surrounding views for everyone to enjoy. Adding baseball decoration, music and ballpark food and you got the makings for a fun time.
One thing for sure, there was no shortage of food or wine for this party; the Italian American Club knows how to put on a great Andiamo for its members!
There also will be no shortage of continued fun activities for the members who are here for the summer. Two pool parties at the Oasis Pool, bocce for just a fun time and a bowling tournament to test your skills at Up Town Alley in Surprise for starters!
Coming this fall many other exciting social activities and events are being planned by the club's Social Steering Committee. Members and even non-members can check the club's website, pciac.org, to see what current and upcoming activities are scheduled for the months ahead.