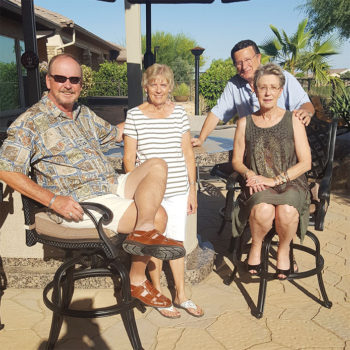 Ken Minichiello
Co-hosts Ron and Thelma Svoboda and David and Shelly Carnevale planned and put on a wonderful end of season Hawaiian theme party for the Italian American Club in April. The party replaced this month's club membership meeting with one of their "After Socials" called Andiamo…this year being at the home of Ron and Thelma Svoboda.
A perfect night at a perfect place! Ron and Thelma's home easily accommodated almost 70 guests with a seating arrangement for excellent socialization and beautiful surrounding views for everyone to enjoy. Add a Hawaiian decoration, music and food and you have the makings for a great Hawaiian party.
Shelly Carnevale started the party by playing a short trivia game with questions about Hawaiian culture and historical facts. Although it was safe to say that the lack of knowledge of Hawaiian facts was fairly obvious, everyone's efforts were rewarded with a wonderful selection of snacks and delicious hot Hawaiian hors d'oeuvres. Add a guest bartender to keep a flow of wines and other beverages going and you have the ingredients for a fun time and happy guests!
One thing for sure, there was no shortage of food or wine for this party. The Italian American Club knows how to put on a great "Andiamo" for its members!
There also will be no shortage of continued fun activities for the members who are here for the summer. More fun activities are being planned with a pool party at The Oasis Pool, a matinee at the Arizona Broadway Theatre and possibly bowling at Up Town Alley Surprise!
Coming this fall/winter season, many other wonderful and exciting social activities and events are being planned by the club's Social Steering Committee. All you have to do is sign-up on the club's website, or for current non-members, complete the Membership Registration Form on the club's website, pciac.org.