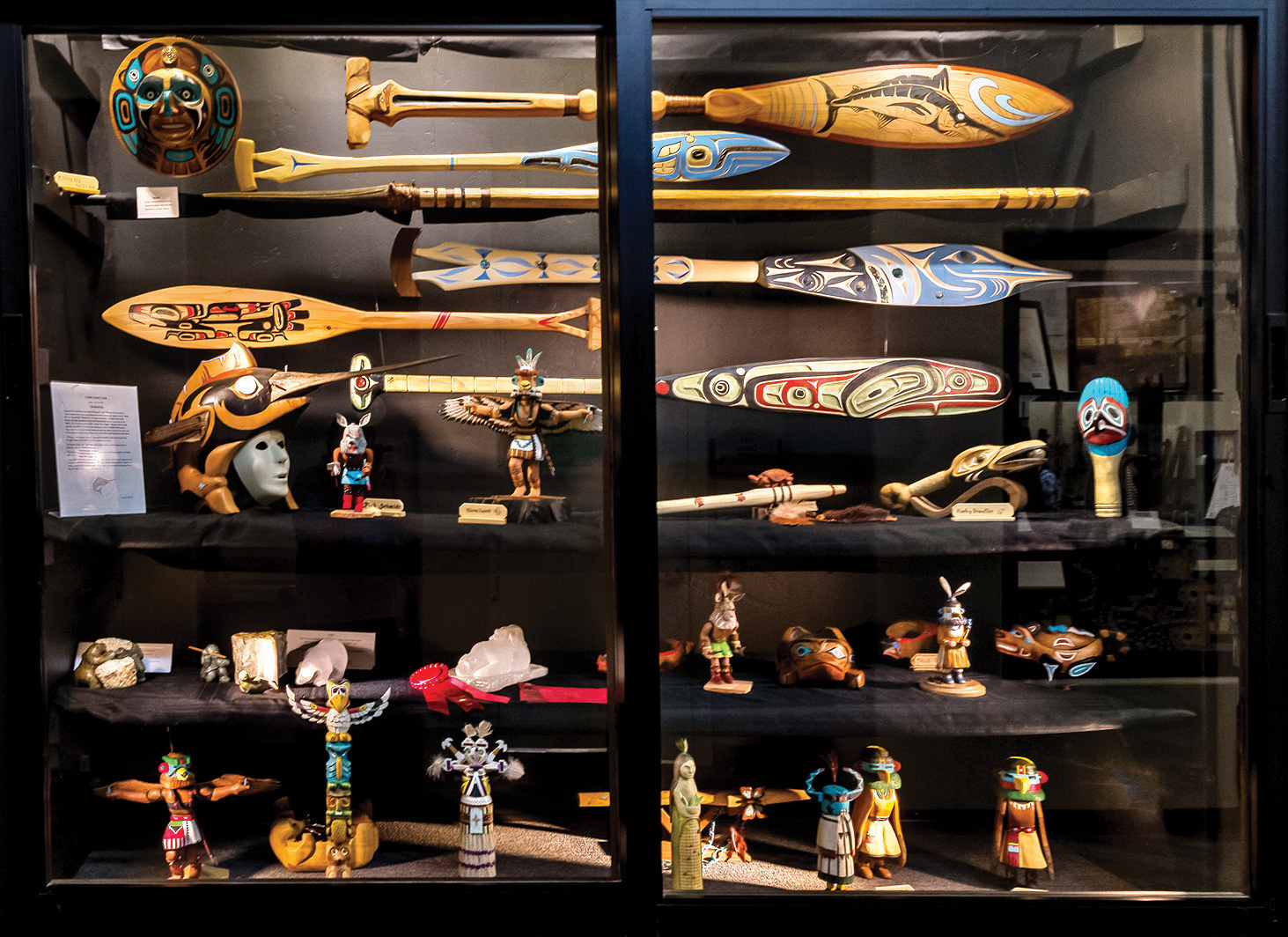 Sherry Blatner
Spring arrives on March 20 and with it a bright array of new colors and content in the Expressions Gallery and Gift Shop. Time to erase some of the winter doldrums with a shopping adventure right here in the Creek!
Drive, peddle, or walk to the Tuscany side of town, approach the model home park, and you'll come upon the Creative Arts Center (CAC), PebbleCreek's wondrous home to many craft clubs and our very own gift shop. With an ever-changing selection of items to browse, give yourself some time to savor shopping in a COVID-safe environment.
I was personally touring the CAC in early February while members of the Woodcarver's Club were installing their special window featuring North American Indian paddles and other carvings. I was left speechless at the beauty of these creations. The attached photo was taken by Larry Matney and the following description is by another club member, David Linth:
"The traditional carved paddles are used by many West Coast Natives to steer and paddle the large cedar canoes in the coastal waters of the Northwest Pacific. Paddles are also used during ceremonial dances and in the past, have also been used as deadly weapons.
"A Hunter/Warrior was also a seaman. His paddle was a very personal and spiritual part of his being and capabilities. Imbuing the paddle with a Spirit would sustain the Hunter/Warrior with confidence, endurance, and approval from the greater omnipotent forces of nature.
"Western Red Cedar (The Tree of Life) was indispensable in daily life and culture. For a marine environmental population, the coastal peoples utilized the cedar for dug-out canoes, paddles, ropes, woven sail-cloth, clothing, planking for their homes, fire and smoke for curing their salmon… indispensable."
Not only is a visit to the CAC a visual experience, it can also be a history lesson!
Remember, we're open Monday through Saturday, 9 a.m. until 4 p.m. Wear a mask, practice social distancing, leave cash at home, but bring plastic or checks.