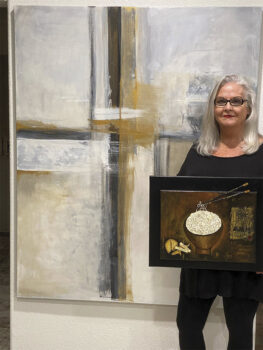 The PebbleCreek Art Club is pleased to announce that Regena Bacon is the December Artist of the Month.
Regena grew up in a very small town in West Tennessee. Retiring early from her passion and career as a salon owner/hairdresser after a diagnosis of fibromyalgia, she found herself dabbling in various art forms. She did everything: contemporary floral arranging, painting walls, cabinets, furniture, glasses, sinks, tiles, concrete, and sweatshirts—almost anything that needed a "special" touch of color or enhancement was at risk of becoming a target for Regena's paint brushes. Everything was done without specific training; just her eye for design that she credits an inherited talent from her wonderful mother.
In 1999, she married the love of her life, Dru Bacon, who retired in 1998. Dru is also her greatest admirer and supports all her artistic endeavors, even when she works through the night up to the very last minute to perfect them.
Dru and Regena realized with a new marriage and two new retirements, they could start their life together with even more changes and opportunities. Looking online, Regena found PebbleCreek. In 2001, they headed west and began the process of buying and building their new home on the barely developed Tuscany Falls side.
Regena quickly became involved in the community by attending interior design classes and joining the Art Club where, during their spring and summer art tents, she displayed and sold numerous "Everlasting Ikebana" floral arrangements. She also began taking art classes in ceramics, glass mosaics, calligraphy, drawing, colored pencil, watercolor, and collage.
As Tuscany Falls continued to develop with construction of the Creative Arts Center, Regena began taking classes in fused glassware—plates and pendants—and beading, collage papers, alcohol inks, acrylic pouring, and abstract acrylics. She also displayed her work in the new Expressions Gallery.
In 2013, after attending a Feng Shui retreat, Regena began a special creative design interpretation of a kimono collage. This collage design was inspired by and is in memory of her son, David, who had a great appreciation and love of her unrestrained raw talent.
Over the years, the kimono collages, along with her "Everlasting Ikebana" floral arrangements (David's favorites) and her abstract artworks have sold and are enjoyed in homes in PebbleCreek, in Arizona, and in states throughout the U.S.
Regena has given talks on creating a peaceful home environment for design classes, demonstrated her Everlasting Ikebana floral arrangements for the Art Club, and participated in the Art Club's Art Walks and shows, in which she received several awards for her abstract art pieces, and has sold numerous art works.
She attributes much of her success to those who have mentored her, including Bill Cupit, Jim Lee, Janice Myers, Pat Gutierrez, Dottie Mitchell, John Balogh, Desiree Mansell, Carol Little, Dee Smart, and others.
Please visit Regena's artwork at the Creative Arts Center and Tuscany Falls and Eagle's Nest clubhouses in December.