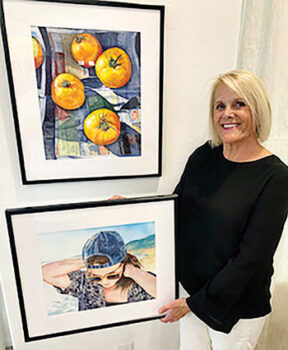 Mary Dohmeier
Artist of the month is an important recognition, and it gives me a sense of pride in the opportunity to exhibit my work. I am a painter and have worked in watercolor for the past six years. My husband, Tom, and I both grew up in small towns in southern Wisconsin and have lived in PebbleCreek for the past two years. Our three children graduated high school in Brookfield, Wis. and attended the University of Wisconsin. Tom and I are both alumni and big Badger fans, and we love everything UW!
I studied education as an undergraduate, taught for 16 years, and earned a master's in educational administration. That degree led to my role as an elementary school principal. I have most recently worked as a district administrator for curriculum, instruction, and student services in both Wisconsin and Illinois. I loved every aspect of education and am proud to have worked with so many wonderful students, teachers, and parents.
When I retired from education, we moved to Scottsdale, and Tom took a position with Banner Health Care. Scottsdale is where I started studying and taking classes in watercolor painting. The classes were a constant source of inspiration and support, helping me develop my sense of form, color, and composition. I find watercolor a challenging medium, and I will continue to explore its complexities for years to come.
I am a current member of the Arizona Watercolor Association (AWA) and have exhibited in many shows all over the metro-Phoenix area. I am currently working on my Signature Status, an achievement that is earned and widely recognized as a significant honor offered in most major art organizations. It denotes the highest level of artistic proficiency within the AWA. I have also participated in the PebbleCreek Art Club exhibitions, winning multiple awards in recent shows. In the fall of 2020, I was awarded the Judges' Choice Award from the juror who judged the show.
We found PebbleCreek through good friends Hilary Fiscus and Kathy Craig, both fellow artists in my Scottsdale painting classes. Hilary and I often meet at the Creative Arts Center and will paint in the open studio setting. Kathy was the promoter of the PebbleCreek Art Club, which is a great organization.
I am also a member of the PebbleCreek Pickleball Club. I find that I spend more time on the pickleball courts than at my easel, which might be a problem! Tom and I both like to spend time with our baby grandson, Stellan. We also enjoy golfing, swimming, hiking, traveling, and the many aspects of the PebbleCreek community.
You are invited to view Mary's artwork on display at the Creative Arts Center and at the Tuscany Falls and Eagle's Nest Clubhouses.