Pottery/Sculpture Club February Artist: Mai Nacht
Gordon Cooper
Many PebbleCreekers have learned pottery and sculpture hand building techniques by participating in the Pottery/Sculpture Club's classes and workshops. We have a busy studio, with hands-on activities each month to develop your creative ability. We offer periodic beginner and intermediate classes, one-on-one mentoring, and fun workshops, most of which are free of charge.
Our February Artist of the Month, Mai Nacht, developed her hand building skills from scratch over the last 18 months. Like most of the Pottery Club members, Mai joined a Beginners class as a new PebbleCreek resident to see what pottery is about. She discovered that she truly enjoys working with clay as an art medium, and spends many happy hours in our studio learning the craft. She is now an independent potter and sculpture builder, who is always experimenting with new forms and techniques.
Stop by our studio in the Gecko Room of the Creative Arts Center to see many works in progress and finished items on display.
Ceramics Club Artist of the Month: Nancy Christman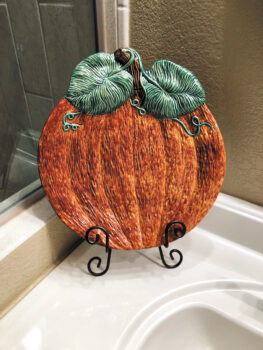 Susan Eastman
Although born in Chicago, Nancy moved with her family to a 35-acre ranch outside Albuquerque, N.M., at a young age. With chicken, geese, pigs, three horses, and one cow, there were always mouths to feed and chores to do. The youngest of four children, she did a lot of tagging along. Plentiful adventures among forest and grasslands, arroyos and creeks became the backdrop for Nancy's love of nature. Unfortunately, the idyll was interrupted by her father's loss of employment, which led to two years in Los Alamos before the family's final move to Phoenix in 1963. Excited to be in "paradise," Nancy went to junior high and high school here, matriculating later to Arizona State University.
During her marriages she lived in Phoenix and developed an avocation for buying and decorating houses. With over 30 homes and cabins to her credit, Nancy favored Southwest eclectic that featured original artists, accented by Americana and antique curios. Her decorating skills can still be seen in cabins in Overgaard and Pinetop. But she credits her passion for ceramics to her crafting with great-granddaughter, Ava. Calling it a rebirth of her inner child, Nancy explored decoupage, painting, and the construction of mixed media projects with Ava.
But it was a fortuitous lunch date with a ceramics member that actually got her to the studio. As is often the case, the encouragement from a friend got Nancy to visit, and it's history from there!
Nancy's early exposure to farm life and its surrounding nature has led her to favor capturing various animals including a quail mom and her three offspring, raccoons, deer, a bear and cubs, squirrels, and even adding a charming skunk to her ceramic menagerie!
When not expanding her zoo, she enjoys doing groupings of items that involve color and texture including paints with crystals to result in vibrant finishes. It's always fun to see what Nancy will come up with for her next project! Come by the Ceramics Club windows in the Creative Arts Center to see what's new!
Speaking of which, the Ceramics Club of PebbleCreek is offering a great new opportunity! On March 18 from 9 a.m. to noon the club will sponsor an Introduction to Ceramics class! If you have never tried ceramics before or just dabbled once or twice, this class is for you! The basics will be taught to expand your knowledge. You will learn how to clean, paint, and fire your own greenware vase and paint a bisque mug. You may then decide to explore more diverse pieces. There is no obligation to join the club, but you do need to register for the class as there is a limit of 20 participants. Registration begins March 4 at a cost of $30.
Sign-up is in the Expressions Gallery of the Creative Arts Center.
Join us to make new friends and enjoy the artistry of ceramics!
Art Club: Ronald Shrum
The PebbleCreek Art Club is pleased to name Ronald Shrum Artist of the Month for March 2023.
Ronald grew up in Springfield, Mo., where he attended college at Drury University. He then attended dental school at the University of Missouri in Kansas City. Shortly after graduating in 1974, he opened a private dental practice in Blue Springs, Mo., outside of Kansas City, until his retirement in 2015.
Ron is a self-taught watercolorist. He began painting in 1976, learning from books, TV videos, and at classes taught by exceptional artists. His inspiration began with the art he viewed at Ducks Unlimited art exhibits, and his early work was ducks and birds in nature scenes.
When his wife Sophie asked him to paint an elephant, he painted his first elephant portrait, Mona Lisa 2, whose eyes follow you around the room. He then began painting African wildlife, drawing his ideas from photographs, many taken by friends. Studying animals up close and personal is a special interest of Ron's.
Ron and his wife Sophie raised their family in Kansas City and bought a home in PebbleCreek in 2004. After a decade visiting as snowbirds, they moved to PebbleCreek full time after his retirement.
Pottery/Sculpture Club March Artist: Gary Ochterbeck
Gordon Cooper
Our March Artist of the Month, Gary Ochterbeck, moved to PebbleCreek during the COVID-19  lockdown and took the first Beginners Class offered once the studio reopened. Gary enjoys making useful pottery projects to his exacting specifications. He is always experimenting with new forms and glazes.
Gary is especially interested in learning about glazes and glazing techniques. He is also the lead kiln operator for the club. He volunteered to take responsibility for loading, firing, and unloading our two high-temperature kilns with fragile pottery and sculpture pieces. This is a demanding job, and the club is grateful that Gary is willing to commit his time for our benefit.
Stop by our studio in the Gecko Room of the Creative Arts Center to see our kilns, the many works in progress, and finished items on display.