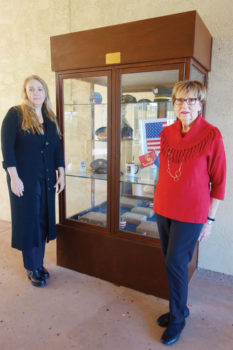 Susan Knox Wilson
Watch out Drew and Jonathan, Joy and Trudy may replace you as the next hot decorating team on HGTV (an initialism for Home & Garden Television)!
Fans of the HGTV series Property Brothers, know the amazing work Drew and Jonathan Scott do finding and transforming extreme fixer-upper properties into dream homes. But wait until you see the amazing work staffers Joy Hertz and Trudy Shaffer have done renovating our Armed Forces Display Cabinet from dull and dreary to bright and cheery and you'll know why our PebbleCreek team is destined to challenge the Property Brothers!
"I walk by the Armed Forces Display Cabinet every day on my way to the office," revealed Trudy Shaffer, PebbleCreek Financial Operations Assistant Manager, "and I thought it was so sad that the only things in the cabinet were samples of the pavers residents can buy to install in our Armed Forces Plaza. So, one day, Joy and I decided we'd take on the task of making the cabinet more of a tribute to all the men and women who serve or have served in the U.S. Armed Forces. We had fun deciding what to include and it really became a team effort with the participation of staff from a number of other departments."
The cabinet was refinished inside and out and weather proofing was installed around the doors to help keep out dust and dirt. The team collected flags and challenge coins representing various branches of the military, along with hats and patches from different military campaigns and has artfully positioned the items in the case — along with the sample pavers for our Armed Forces Plaza. Many of the items were donated by PebbleCreek residents.
Says Joy Hertz, Administrative Assistant to the General Manager, "I hope the new cabinet will help residents remember how thankful we are to all the servicemen and women who help keep America free."
Joy and Trudy intend to keep adding memorabilia to the cabinet and are currently working on a special PebbleCreek contest to see which military branch can submit the most challenge coins.
In addition to visiting the Armed Forces Display Cabinet just outside the Activities Office, residents are urged to visit our Armed Forces Plaza. PebbleCreek's Armed Forces Plaza was dedicated May 15, 2010, to honor all who serve or have served in the U.S. Armed Forces. The plaza is located directly west of the PebbleCreek Eagle's Nest Clubhouse. The plaza is made up of pavers and seat caps engraved with the names of servicemen and women of PebbleCreek residents, family or friends. It also features military branch flags, the U.S. Flag and a beautiful water feature.