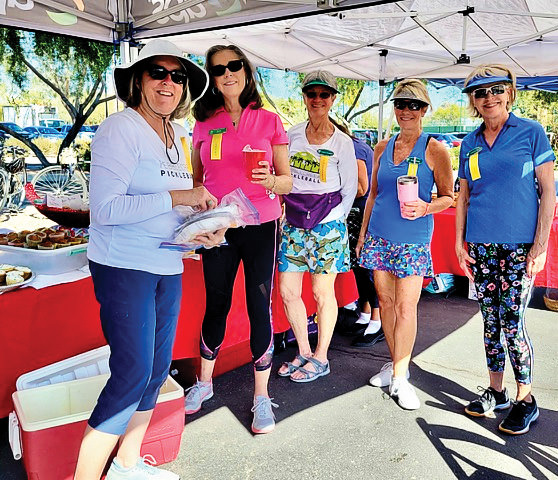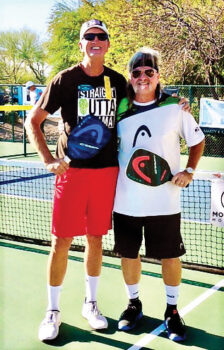 Beth Kelly
Another fantastic USA Pickleball Association (USAPA)-sanctioned tournament was held here in PebbleCreek on Feb. 9, 10, and 11. Mike Crabtree, tournament director, choreographed the three-day event where 531 players arrived from near and far. There was a common theme throughout players and spectators alike: appreciation for the club organization and the munchies provided. The Sweet Spot remains a favorite of all.
Along with a great player turnout, we were supported by more than 235 volunteers and more than 45 sponsors, which made this tournament a huge success. A special thank you to our Gold Medal Court Sponsors: Arizona Rain, Roy Johnson Realty, Donna Strand Realty, and Movement Mortgage. We also want to thank all the committee chairs: John Pihl, Denise Johnson, Sandy Crabtree, Vicki Carter, Brent Ebert, Pat Chernow, Chuck Fahn, Sandy Clinton, Karyn Barbe, Jim Barbe, Susann Johnson, Marty Aalto, Shelley Coates, Beth Kelly, Linda Krueger, Sarah Marsh, Alex Potapoff, Bill Priebe, Linda van Son, and Sharon Hadley.
Along with the free homemade treats from The Sweet Spot, Chef Peter's Bistro food truck had different menu items each day for players, spectators, and volunteers. All three days, the volunteer tent had unbelievable food offerings that included shrimp, ham, roast beef, and chicken croissant sandwiches; cheeseburger and chicken sliders; chicken roll-ups; barbeque and brown gravy meatballs; remaining goodies from The Sweet Spot; plus fruit, chips, snacks, and soft drinks. It pays to volunteer! Vendors galore and a silent auction were offered every day.
PebbleCreek pickleball players had a grand showing on the medal stand:
Gold
David Kremsdorf/Phil Duran, Scott Stewart/Scott Sutton, Greg Wellington/Juan David, Doc McGarrie/Bob Weldon, Bill Wood/Terry TerHaar, Peggy Geiger/Burt Geiger, Lyla Reibel/Dick Burns, Wendy Langhals/Ann Elliott, Jean O'Reilly/Chris Stelplugh, Becky Cox/Joss Harpell, Lyla Reibel/Barb Wise, Karin Sobott/Lisa Milbrath
Silver
David Graeff/Russell Loewenstein, Bill Cagle/Randy Morrow, Rick Watson/Tom Dolder, Craig Fairclough/Burt Geiger, Tee Hutchins/Fred Biancardi, Tony Wells/Bill Vansickle, Vic Franklin/Bill Cagle, Barb Wise/Wade Johnson, Lisa Milbrath/EJ Karsten, Helen Wagner/Susan Slaughter, Roberta Diles/Ellie Love
Bronze
Ronnie Dalessio/Richard Worford, Gil Monti/Don Paxton, Niles Newton/Tony Biondi, Dan Schuler/Dick Burns, Jim Barbe/EJ Karsten, Vicky Ballew/Kim Ballew, Barb Mussman/Paddy Hoy, Roberta Diles/Dean Goupil, Doreen Bowman/Norm Bowman, Andrea Dilger/Tony Wells
The tournament offered tons of great pickleball, spectator energy, and loads of fun was had by all. Start planning now for the next amazing 7th annual tournament in 2023.