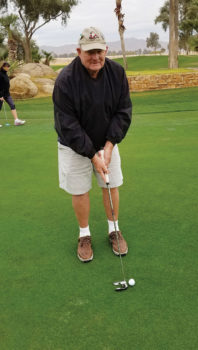 Maureen E. Campbell
In 2017, Tom Wattawa became the first member to achieve a zero handicap in the PebbleCreek Putters Club.
Each week the course layout changes for club putting and consistency in scoring is the challenge for members. Tom accomplished this last year by taking his three handicap down to zero.
Tom and his wife Sandy putt weekly. Tom says that playing with the club has definitely improved his golf game.
The PebbleCreek Putters Club putts weekly on Mondays and Wednesdays all year long. You will find membership forms in the alcove at the Tuscany Falls Pro Shop, or please contact the club's membership chairperson, Carol Hahn, at kchchevy@aol.com with any questions or for more information.