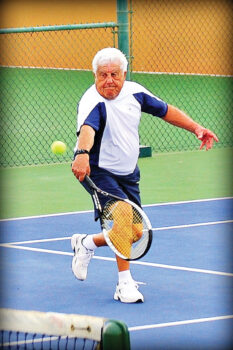 Dennis Whitley
Do you know who I am? If you spent any time on the tennis courts while Jerry Santy was the club's president, you certainly heard this question being asked by him. Jerry is well known for his sense of humor and his ability to dish it out, as well as, take it. What you probably do not know is that Jerry has been an advocate, much of his adult life, for causes that range from land ownership associations, military benefits, and girls little league, just to name a few. Jerry does not sit on the sidelines and hope for the best, he gets involved.
Jerry was born in Green Bay, WI, and at the age of 18, he joined the Air Force. His career in the Air Force took him all around the U.S. and to Thailand. After 20 years, Jerry decided to retire and start his own business—the Santy Insurance Agency. As with all of Jerry's endeavors, he went all in, and within three years, he was the third largest producer in the nation. To achieve this level of success, you might think that selling insurance was all he focused on. However, with five children, Jerry became involved with their activities too, and in many cases, started little leagues (boys and girls), coached, officiated, and was president of these organizations. Baseball wasn't the only sport Jerry was involved with, though. He also coached girls' softball, boys' basketball, American Legion baseball, and children's bowling. If an organization that Jerry belonged to was mismanaged or was disbanding due to lack of membership, Jerry would start a new organization and recruit new members. This is the common thread that runs through Jerry's life and career—getting involved.
Jerry started playing tennis in the early seventies after he retired from the Air Force and has been playing ever since. With some practice and lessons, he hopes one day to reach the 2.5 level of play…that's a joke. Actually, Jerry has been a member of the resident group The Amigos for eight years and plays regularly with this highly competitive group. In addition to competitive tennis, when Jerry is on the court you can expect to receive a dose of his good humored "trash talk," which is one of his signature traits.
While Jerry was caring for his older brother in Arizona, he and his wife, Jill, looked at communities in the Phoenix area and fell in love with PebbleCreek. In addition to the excellent tennis facilities, there was also plenty of golf, which he also enjoys.
As the consummate advocate, Jerry has helped many of the organizations that he has been associated with, and one of these benefactors is the PebbleCreek Tennis Club. As president of the club, Jerry fought for many of the things we now enjoy and his advocacy helped in making the Tennis Club the success it is today.
Thank you, Jerry, for all of your time and efforts. We are glad you are on our side!