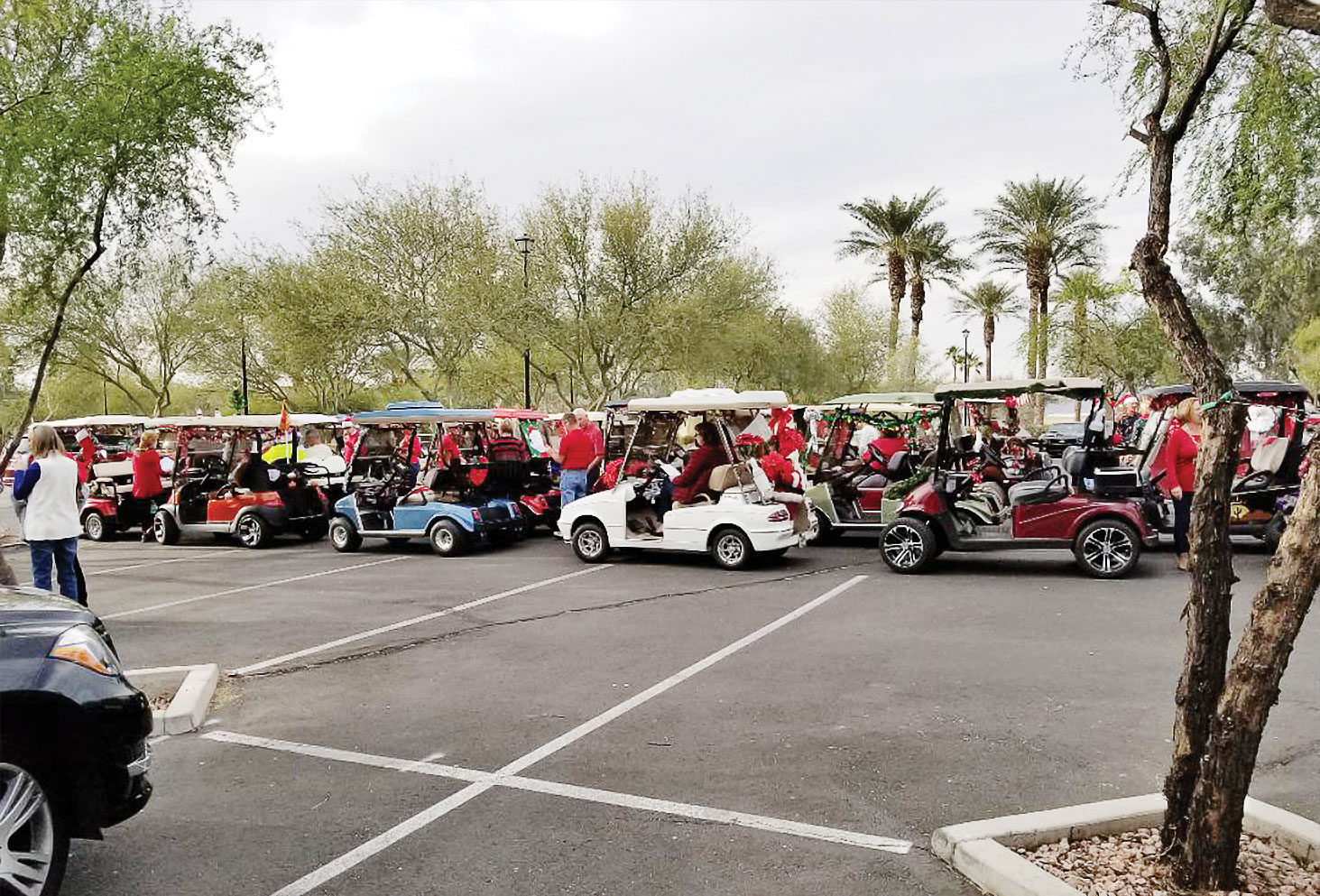 Jill Miller
Get in the holiday spirit and join us for the annual Tuscany Falls and Eagle's Nest golf cart Christmas caroling parties! These are two separate events.
The Eagle's Nest caroling event will be held on Thursday, December 6 starting at 3:00 p.m. with a dinner (optional) following at 5:00 p.m. in the Eagle's Nest dining room alcove. EN carolers should meet in the parking lot across from the EN Activities Center. The group will carol to shut ins in Eagle's Nest, but singers residing on either side of PebbleCreek are welcome to participate. Send suggestions for homes to visit in Eagle's Nest or direct questions about the EN caroling and dinner to Ted and Thelma Lindhorn at 623-536-5584 or by email at tntlindhorn@cox.net.
Tuscany Falls caroling is set for Sunday, December 9. Carolers will gather in the Creative Arts Center parking lot at 3:00 p.m. and drive in groups to various homes in Tuscany Falls for caroling. There is an optional dinner in the Tuscany Falls Clubhouse following the caroling.
If you would like to join in the Tuscany fun, contact Bill Raymond at pccarolers@cox.net by November 21 and sign up by giving your name, phone number, email address and the number of people who will be riding in your cart. You will then be sent instructions for the event and additional information about the dinner. Last year's dinner was such a success that we're repeating the Italian buffet menu. Dinner reservations are due to Caroline Ryker at flashryker@gmail.com or 623-398-7860 by November 30 as the final count must be submitted to the caterer the next day by 10:00 a.m. The cost of the dinner is $22 per person. Payment for the dinner must be made to Tom Bose by December 1. You can mail your check to him or drop it off at 16342 W Sheila LN. Tom's email is matrbose@cox.net.
If you know of any neighbor in Tuscany Falls who lives alone, has health issues, has lost a loved one or would just enjoy a friendly singing visit from the Tuscany Falls Christmas carolers, please contact Ane Aune at 408-207-6398 or by email at aneinsj1@gmail.com.