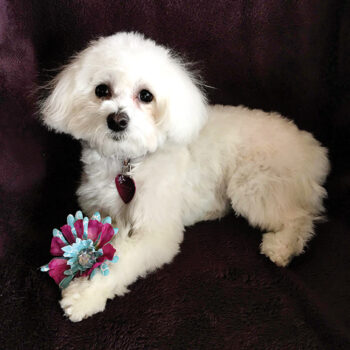 Without a dog for 22 days—that's all she lasted. She knew she wanted to name me Lacey, but none of the puppies available fit that name, until me! I'm white, petite, fluffy, female, and I am a maltipoo. Lacey, I am, I am. Her friends said the name fits me perfectly, and I was perfect for her and she for me.
I was only 2.3 pounds when she first saw me, and I had to weigh 2.5 pounds and maintain that weight for one full week before I could go home with her. It was a long 11 days. Finally, the ride home was on Jan. 17.
It was really hard staying home until I had all my puppy shots. She wanted to show me off to all her friends in a group called Mutts On A Mission. That's what mom does—she volunteers with a group that train their dogs to be therapy dogs and provide that service to hospitals, residential homes, libraries, and the R.E.A.D. (Reading Education Assist Dog) Program in four local schools in the west valley. All the members in Mutts On A Mission are excited about this program and even have a video about it on their website at muttsonamission.org.
Did I tell you I like to play? In the evening, I like to play fetch. I don't know where I learned to fetch, but my Mom, Candy Lawson, says she thinks it was just in my genes.
When I was 15 weeks old, Mom took me to California on an airplane. I rode in a carrier under the seat. I didn't cry once. Mom's sister was sick and mom wanted her sister to see me. I got passed all around the assisted living place that my Aunt Betty lived in. All the people there were so happy to have me there for a few days, and I loved being petted and handled by all those nice people.
When we came back it was time to start puppy class. I learn quickly. Right now, I'm learning "leave it." That leave it thing is very important if we volunteer in the hospital. Hopefully I will pass my evaluation to become a registered therapy dog in April, when I am 18 months old.
If you wonder what Mutts On A Mission is, you can go to their website at muttsonamission.org or look at their Facebook at Mutts On A Mission. Mutts On A Mission is looking for members who would like to do volunteer work in the west valley with their canine partners. Once your pup is trained in basic obedience, you can take a workshop with Mutts On A Mission about what is involved in doing therapy dog work and be evaluated as a team. Mutts On A Mission is a 501(c)(3) non-profit and has been doing this work since 2008 in the west valley. You can also call 844-FUR-HUGS, and someone will call you back to answer your questions.