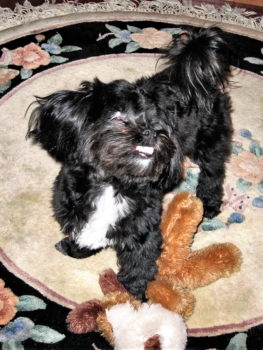 Jim Ellison
Hi! My name is Faith. I live with my adoptive parents, Jim and Margaret Gillespie. I was born on June 4, 2019, in Chino Valley near Prescott. My mom and dad had six puppies, but I never developed eyes, so I am blind. I am adapting to our house and I get around pretty good. I usually follow my people and stay close to them. Sometimes I sneak into the closet and play with the shoes. I even know where the bathroom is, and I pull down the toilet paper when no one is watching.
I like to play with other dogs, even my parents' son's 120-pound Akita. I like to take walks on the paths and to meet other dogs and people too. I have a ball that talks so I can find it easily. I love play time when my mom and dad come to visit, or my Aunt Precious who lives with our daughter Patti in Phoenix. I've also gone to a rehab center to visit friends in recovery. I may become a therapy dog.
I'm a Coton de Tulear puppy, a breed of dog named for the city of Tulear in Madagascar. This breed is thought to have originated from a group of small white dogs who swam across the Malagasy channel following a shipwreck. I'm told I'm not white as you can see. Come see me sometime.