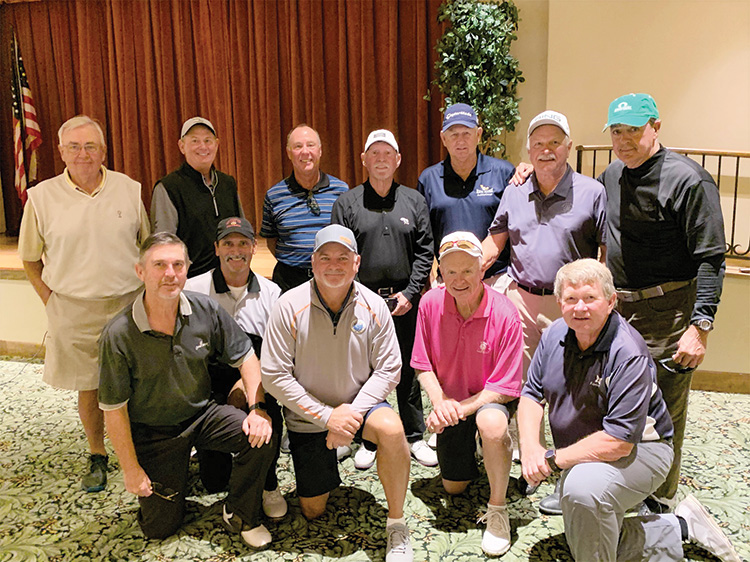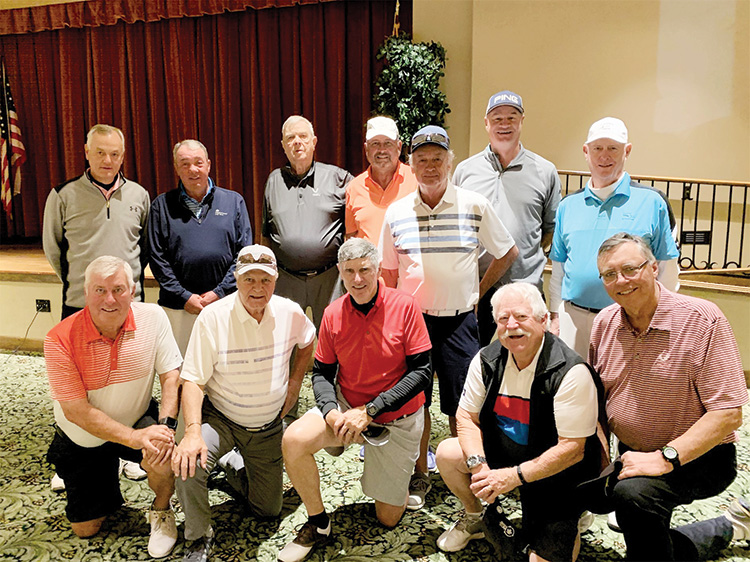 Howie Tiger
The PebbleCreek Men's Golf Association conducted its final major tournament for the 2019 season. The format for this three-day event was a 4-man scramble where the members chose their own teammates. The tourney was held on Dec. 5, 11, and 12.
The field, which consisted of 47 teams, was separated into six flights. All flights played from the blue/white combo tees. The course rotation for flights 1, 2, and 3 was Eagle's Nest, then Tuscany Falls East, then Tuscany Falls West. The rotation for flights 4, 5, and 6 was Tuscany Falls West, then Eagle's Nest, then Tuscany Falls East. The weather was clear, but cool being an 8:30 a.m. shotgun each day.
After play on the final day, players gathered in the Tuscany Falls ballroom for lunch, beer, and soda. A vote was taken to approve the changes to the Bylaws. The most active PCMGA player for the 2018-2019 season was announced. Jim Seith took this honor, now three years in a row. Prizes were awarded in each flight for Low Net (3 places).
Winners:
Flight 1: 1st place – Steve Annable, Scot Becraft, Art Krudener, and Bob Parise; 2nd place – Wayne Fleming, RJ Howland, Bill Koehn, and Allyn Sayre; 3rd place – Terry Kay, Terry Smith, Bill Walenda, and Harvey Winn.
Flight 2: 1st place – Rick Boyles, Keith Clinton, Richard Mariotti, and Ken Ogden; 2nd place – Doug Ginter, Bob Iverson, Brad Johnston, and Dave Korba; 3rd place – Richard Campbell, Pete Gilbert, Don Rivard, and Dick Wiederhold.
Flight 3: 1st place – Tony Alvarez, Dave Bleau, Gene Bruening, and Dan Graville; 2nd place – Robert Chester, Ken Helman, David Morse, and Steve Tamparo; 3rd place – Bill Gainer, Larry Haiflich, Ron Hansen, and Millard Smith.
Flight 4: 1st place – John Birds, Joe Fanning, Lee Kitchel, and Terry Brownell; 2nd place – Tom Burrell, Nick Castiglione, John Frangella, and Norm Munger; 3rd place – Chris Aune, Stanley Bloch, Joe Chimera, and John McCrickard.
Flight 5: 1st place – Ed Bobigian, Gary Ebel, Ken Schumacher, and Jim Sheard; 2nd place – Dave Cowan, Lloyd Garner, Paul Johnson, and Rodney Suttles; 3rd place – Dennis Howland, Paul Maurer, Michael Molinari, and Gino Ranalli.
Flight 6: 1st place – Bob Aldridge, Robert Honson, Ed Neel, and Pete Sattig; 2nd place – Michael Harrington, Arne Johannesen, Stan Lockitski, and Dennis Thelen; 3rd place – Lloyd Chilton, Terry Johnson, Arnie Lawrence, and Tom Reynolds.
Congratulations to all the winners! Also, congrats to Ken Schumacher for his hole-in-one on the first day of the tourney.
The PCMGA thanks John McCahan, Ronnie Decker, and Dave Vader, the food and beverage staff, and greens-keeping staff for all their hard work and dedication.