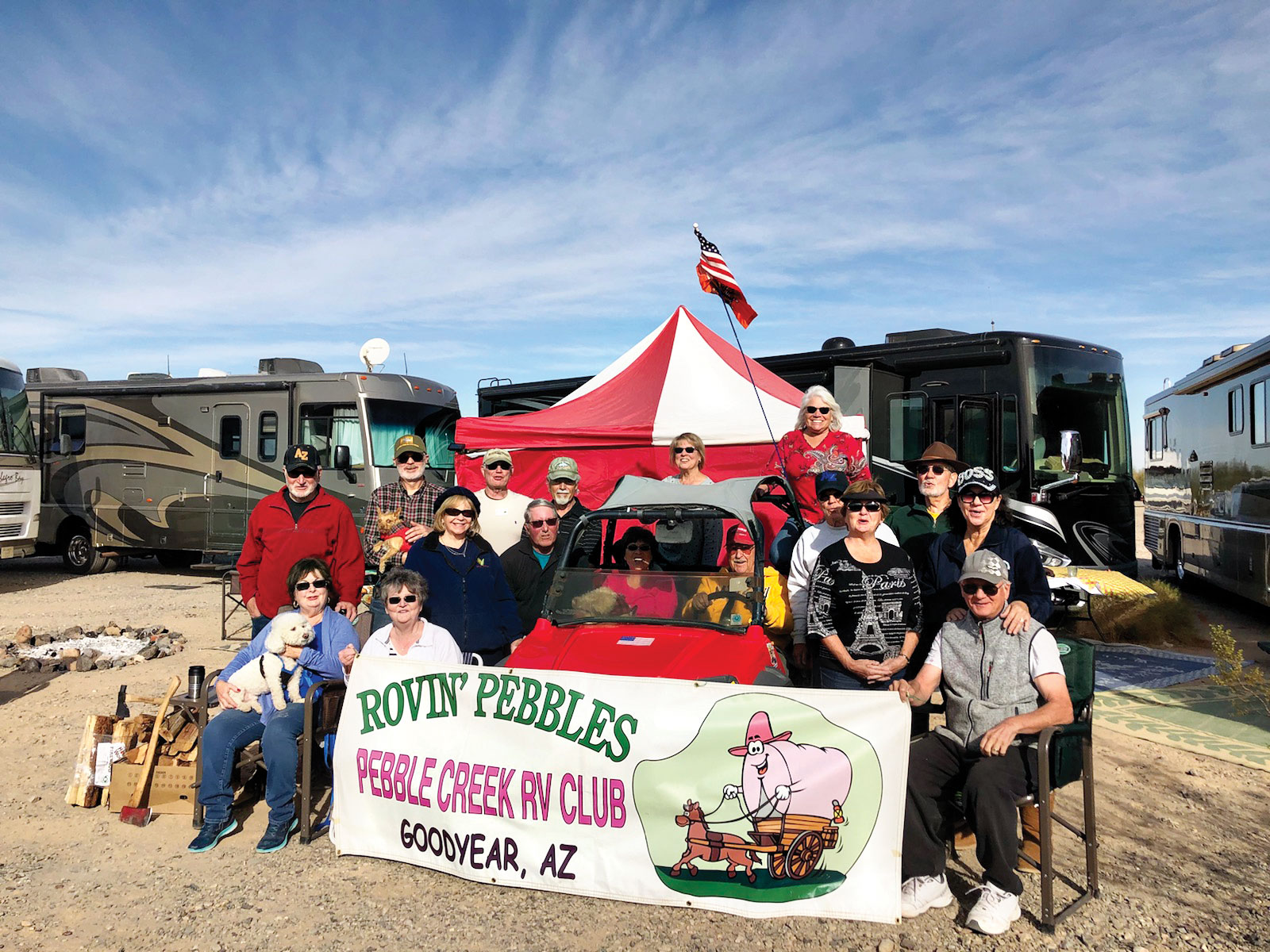 Lou De Carolis
Every January for the past seven years, the PebbleCreek Rovin' Pebbles RV Club travels West on I-10 about 110 miles and stakes claim to a patch of desert that we call home for a few days. Here the simple joys are found at the annual Sports, Vacation and RV Show. The largest gathering of RVs and RVers on Earth. At the same time a huge Rock and Gem Show is in full swing. This year, 20 members of our club attended the RV Rally with two guests from Utah. The Wagon Masters this year were Barb and Bill Van Trump and Carolyn and Lou De Carolis.
During our four-day rally, we all, of course, prepared and shared our favorite Happy Hour hors d'oeuvres and potluck specialties that were accompanied by RV travel stories stretched a bit to add to the humorous tales! A member brought his commercial popcorn machine and passed out hot popcorn while the group watched an evening action movie outside under a canopy. Other evenings we gathered around the camp fire watching the beautiful desert sun set and both counted and traced in the air the several star constellations. Yes, the temps at night did get close to freezing and therein lies one of the beauties of RVing. Each morning the fire tender had the campfire ablaze for early risers to enjoy coffee and pastries as we prepared for the day's action!
Everyone went to the big tent more than once where hundreds of vendors offered everything an RVer would want. Those into rocks, gems and jewelry were treated to a national show equally as big as the RV show. Both shows covered more than 23 acres. The most popular rally activity was the breathtaking ATV rides offered by our longest club member (21 years), Phil Batton. On the hair raising back country desert rides, members visited: Coomb's stone cabin, Painted Rock Petroglyphs, Halsey – Williams Mine, Granite Mountain, Tyson Wash, and Old Yuma Road. Many other historic sites were seen in the distance.
If you love to travel the USA, meet people, experience beautiful sights, taste different foods (many prepared by members willing to share recipes) and apply the PebbleCreek Rovin' Pebbles sense of adventure and exploration, then you need to join our club the first Wednesday of each month for our gathering at EN Ballroom at 3:00 p.m. to learn about the next RV Club adventure.