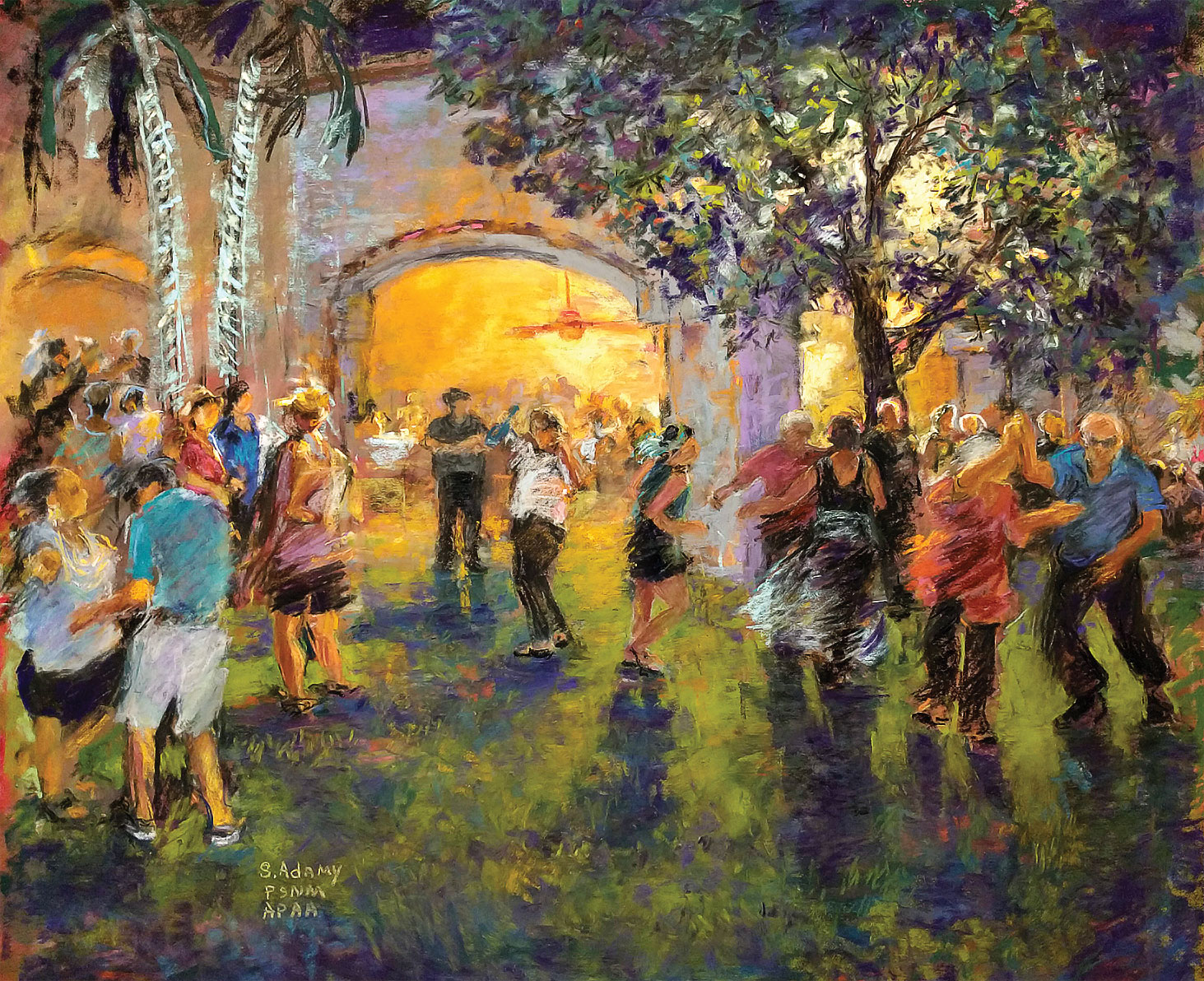 Sharon Adamy
Several resident artists from PebbleCreek participated in the Glendale Arts Council Fine Arts competition on display January 10 through January 28 in the Fruit-Packing House at Sahuaro Ranch Park.
Juried into the Glendale exhibit were Sharon Adamy, Jack Hampton, Kathie Janda, and Gretchen Olberding. Their work was on display for show and purchase in the gallery daily at Sahuaro Ranch Park, 29th Avenue and Mountain View Road in Glendale.
Carl Dalio, a Sedona, Arizona resident and internationally acclaimed artist was the judge of this competition. His is known for his expressive and colorful work in multiple media.
All art juried into this exhibit was original and categorized into acrylic, pastel, oil, watercolor, mixed /experimental media, drawing, and sculpture. Monetary awards for first and second were awarded in all categories as well as an overall Best of Show.
PebbleCreek artist Sharon Adamy received a first place pastel award for her entry "Revelry in PebbleCreek," a colorful painting of local residents enjoying a rock concert/dance on the lawn of Eagle's Nest." Kathie Janda had two juried pastels accepted: "School's Out," a dog shuffling among the tennis shoes of children, and "The First Course Was Green Mussels." "Symphony of Light and Shadow"' a landscape pastel by Gretchen Olberding and Jack Hampton's oil painting, "The Athlete," round out the PebbleCreek artists accepted. Nancy Hampton sold her oil painting, "Popping Poppies" although it was not juried into the final exhibition.
The Glendale Arts Council has sponsored this Fine Arts Competition for the past 55 years and it is open to all artists over the age of 18 residing in the state of Arizona. The Fruit Packing House was built in 1891 to serve as a drying facility for the figs grown on the ranch. This unique facility has been renovated into an air-conditioned exhibition gallery to display works of art. A trip to view the building and the artwork as well as the surrounding park would be a treat for any art enthusiast as well as any history buff.