Learning something new in LLL classes
Shannon Tyree
Did you make a resolution to learn something new in 2018? How's that working out for you? I bet if you look at this lineup something will spark your interest since LLL offers classes on a wide variety of subjects. Complete descriptions about each class is available online at www.lifelonglearningatpc.org/classes. While several classes are already sold out, space was still available at press time for:
Opera, The Barber of Seville, Thursday, February 1 from 11:00 a.m.–noon, taught by Joshua Borths, Arizona Opera's education manager. If you are planning to attend the LLL trip to see this opera, you will not want to miss this companion class. Cost $10.
Understanding the Current Energy Transformation taught by Dru Bacon. This two-session class will be held on Saturdays, February 3 and 10 from 10:00 a.m.-noon. Learn how to assess your energy use practices and 21st century energy use trends, electric cars and solar energy. Cost. $35.
Driving High Performance Cars Wednesday, February 7, 1:00-2:30 p.m. Instructor Don Clinkenbeard will take you through the steps of performance driving as well as explain the guidelines for learning to drive your vehicle to its full potential. Cost $15.
Humor: How to Prevent Hardening of the Attitudes taught by Debbie Harbinson, a registered nurse and certified laughter leader. This class provides theory and a participatory demonstration of gentle and enjoyable therapeutic laughter exercises. This is a two-session class on Tuesdays, February 13 and 20 1:00-3:00 p.m. Cost $35.
World of Roses taught by Clair Martin, curator emeritus of the Huntington Rose Garden. This illustrated program will introduce you to the long and fascinating history of the flower that is our national floral emblem and acquaint you with the long history we share with the rose. Martin will also give an overview of planting and caring for roses in Arizona and will welcome any questions you might have. Thursday, February 22, 1:00-3:00 p.m. $20.
Sign up and keep your resolution to do something new this year!
Eleanor Roosevelt comes to life on stage February 16 in "What are we fighting for?"
Shannon Tyree
Susan Marie Frontczak, a storyteller who has brought literature and history to life for more than two decades, will portray Eleanor Roosevelt on the Renaissance Theater stage at 7:00 p.m. Friday, February 16.
The time is December 1942, and Mrs. Franklin D. Roosevelt has just returned from England, where she visited with soldiers, generals, royalty and working people. It is a crucial time in Eleanor's life. She has worked tirelessly for peace for 20 years, but her husband, the president of the United States, is embroiled in the largest war the planet has ever known.
Frontczak will bring to life how the first lady feels about the individual's role in a world torn by war, hardship and uncertainty. In her performance she will blur the boundaries of theater, storytelling and public speaking as she addresses and responds to audience questions while portraying an historical character.
Frontczak's performance will include a monologue and an audience Q & A with both Mrs. Roosevelt and the presenter. Join us for this one-of-a-kind performance Friday, February 16 at 7:00 p.m. Tickets to this presentation are $15 per person and are available at www.lifelonglearningatpc.org or they may be purchased at the LLL Center, before any Monday Morning Lecture or at the door of the Renaissance Theater on the evening of the presentation.
Free LLL programs, a gift to the community
Each season LifeLong Learning offers several special programs that are free to the community, a way of saying thank you for supporting our programs. Due to space limitations, registration is required and can be done online at www.lifelonglearningatpc.org or at the LLL Center Tuesday through Friday from 9:00 a.m. until noon.
PC Reads, the newest LLL program, is a drop-in book club that meets the first Thursday of each month from 5:00-6:30 p.m. On February 1 the group will discuss The Boys in the Boat by Daniel James Brown.
Want to read ahead? The March 1 book is Kitchen House by Kathleen Grissom and on April 5 the discussion will be of Dead Wake: The Last Crossings of the Lusitania by Erik Larson. All the selected books for the popular book group are listed months ahead on the PC Reads website,
Remember there is no charge to attend but monthly registration is required and is limited to 24 people. PC Reads meets all year long, and you can see what books have already been discussed as well as what is in store on the LLL website.
The final session of TED Talks for the season will be Thursday, February 8 from 2:00-4:00 p.m. Participants will meet in the Palm Room at Eagle's Nest Clubhouse to watch two or three TED Talk videos and discuss what they've seen in small groups. TED's mission is "Ideas worth spreading" and that's what we hope you'll do. Come and enjoy, then talk to your friend, neighbors, and family about the topics you were introduced to. Registration is free and limited to 32 participants.
Have you read Bel Canto by Ann Pachett? If so, you will want to sign up for the second Sunday series of the season from 2:00-3:30 p.m. on Sunday, February 25 in the Chianti Room of the Tuscany Clubhouse. The book is based on a true hostage event in Peru in 1996-1997 when Marist rebels stormed a cocktail party at the Japanese embassy, seizing more than 400 guests, 72 of whom were held for four months. The book was published in 2001 and five years later became an opera. But what started out as a panicked terrorist event, slowly evolved into something quite different. A moment of great beauty, as terrorists and hostages forge unexpected bonds. The discussion is sure to be riveting and the light refreshments enjoyable. Josh Borths, education director of Arizona Opera, will lead the discussion. The event is free, but we request you bring a non-perishable canned good for St. Mary's Foodbank. Registration is required and limited to 100.
Feel like getting away? Travel with LLL – we make it easy!
Shannon Tyree
Trips are a wonderful way to meet PebbleCreekers with similar interests. Join your friends and make new ones as you discover interesting locations in February and March. Convenience is the key, as trip costs/fees include transportation, entry fees or tickets, meals (when listed), tips and other incidentals. The planning's been done, all you need to do is sign up!
You can register online at www.lifelonglearningatpc.org or visit the LLL Center during office hours of 9:00 a.m. to noon, Tuesdays-Fridays. Complete trip descriptions are available on LLL's website as well as in the printed schedule available at the kiosks at Tuscany Falls and Eagle's Nest clubhouses.
Wednesday, February 7: See your tax dollars at work as you tour two of Western Maricopa Education Center's 12 sites. The first stop is the Central Campus in Glendale, where students prepare for careers in aviation maintenance, criminal justice and other fields. After a lunch break at Tempo Urban Bistro in Verrado, it's on to Buckeye's Southwest Campus to see how students acquire skills in energy/industrial technology, IT security, medical assisting and pharmacy technology. $55.
Saturday, February 17: A perfect Valentine gift or treat! LLL visits Ballet Arizona for its spectacular production of Cinderella. The trip begins with a pre-ballet lecture, then, after the performance, dinner at Sonata's. Ah, a happily-ever-after trip if ever there was one! $150.
Wednesday, February 21: LLL travels to two of the Valley's newest and most popular attractions: OdySea Aquarium and Butterfly Wonderland. You can spend your day as you like, seeing the things that interest you with plenty of time to enjoy them. Visit OdySea's website prior to your visit to plan your day. Both OdySea and Butterfly Wonderland offer 3-D movies and interactive displays. $65.
Friday, February 23: Enjoy this annual trip to the Phoenix Symphony. Attend the pre-concert talk with the conductor or guest musician, and hear acclaimed German violinist Friederike Starkloff perform the formidable Braham's violin concerto, followed by lunch at Seasons 52. $90.
Tuesday, February 27: Join LLL for an all-aviation day! Travel to Tucson for a visit to the PIMA Air Museum and Davis-Monthan Boneyard. Get up close and personal with more than 300 historical aircraft and enjoy an informative docent-led bus ride. After lunch, it's more aircraft at the Davis-Monthan Air Force Base, a one-of-a-kind facility that provides critical support and repair for fighters in use around the world. $95.
Sunday, March 11: Join LLL at the Arizona Opera for one of Rossini's greatest works, The Barber of Seville, a delightful comedy that will keep you laughing while you're humming familiar arias. A pre-opera lecture is part of the day as well as dinner after at The Parlor. $160.
Tuesday, March 13: LLL travels to Florence and the Casa Grande National Monument where one of the largest prehistoric structures ever built in North America still exists. Then to the Greek Orthodox Monastery and lunch at Mount Athos Restaurant & Cafe, before touring the Pinal County Historical Museum. $75.
February's Monday morning lectures full of variety
Shannon Tyree
Monday Morning Lectures begin at 10:00 a.m. and tickets to all MML are $4 at the door of the Renaissance Theater with sales beginning at 9:00 a.m.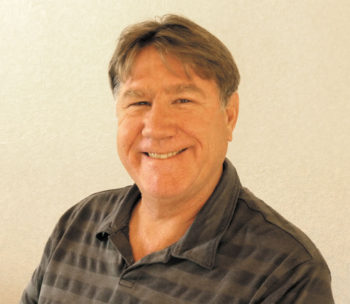 Mark Randol
An exciting month of MML kicks off February 5 with a particularly timely topic: immigration. Mark Randol will provide information about the historical context for U.S. immigration policy, the differences among visitors, immigrants and refugees, and the vetting process for each. He will also discuss the implications of increased deportations of the undocumented and what to expect from the multi-billion-dollar program to construct a 2,000-mile border wall. Randol, now retired, serves as the senior specialist in domestic intelligence and counterterrorism at the Congressional Research Service in Washington D.C. which provides Congress with comprehensive and non-partisan research and policy analysis.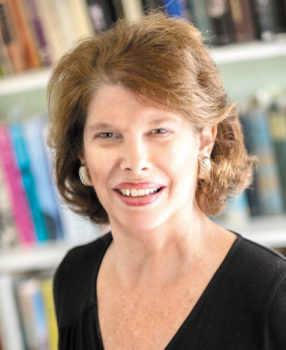 Melinda M. Ponder
"Oh beautiful, for spacious skies…" odds are you can recite the rest of the song. Join us February 12, when Melinda M. Ponder, author of Katherine Lee Bates: From Sea to Shining Sea, a biography of the woman poet who wrote America the Beautiful, will explain the amazing story of how a poem published in a church periodical in 1893 became America the Beautiful 18 years later. We'll learn from Ponder who exactly Katherine Lee Bates was, her background and her inspiration.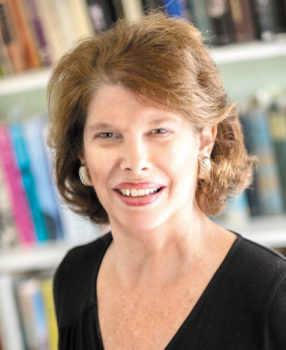 Martina Vandenberg
Martina Vandenberg, founder of The Human Trafficking Pro Bono Legal Center in Washington, D.C. will present "Confronting Human Trafficking and Strategies to Combat It Globally" on February 19. Are you aware that 20 million men, women, and children are victims of human trafficking, a form of modern slavery, that is a multi-billion-dollar criminal industry? Vandenberg will explain human trafficking and what can be done to hold traffickers accountable.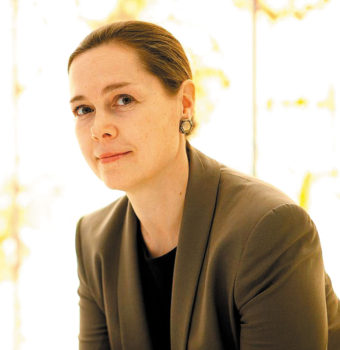 In Old Arizona movie poster
Finally, on Monday, February 26, Jim Turner will return to PebbleCreek to talk about Arizona's role in moviemaking. For decades, movie producers have been using Arizona's beautiful and rugged scenery for many motion pictures. Join us and hear about the plots, players and behind the scenes stories of Charles Laughton, Jean Harlow, John Wayne and many more. Turner, who retired from the Arizona Historical Society in 2009, is a prolific writer and lecturer on Arizona and the Southwest and one of PebbleCreek's most popular lecturers.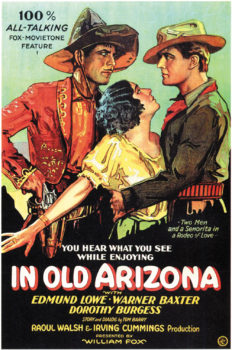 LLL center staffed to help you in February
February is a busy month for LifeLong Learning, but the LLL Center has regular hours to help answer any questions you have. Purchase trip tickets, register for TED Talks, or find out which classes still have openings. You can also purchase Premier Lecture tickets or a gift card for your valentine. You can do all those things and more during our regular office hours in the LLL Center. We're staffed and ready to assist you.
Feel free to stop by anytime between 9:00 a.m.-noon, Tuesday-Friday between February 1 and February 28. The LLL Center is closed if there is a Monday Morning Lecture, but volunteers in the theater lobby can help you before the lecture begins at 10:00 a.m.