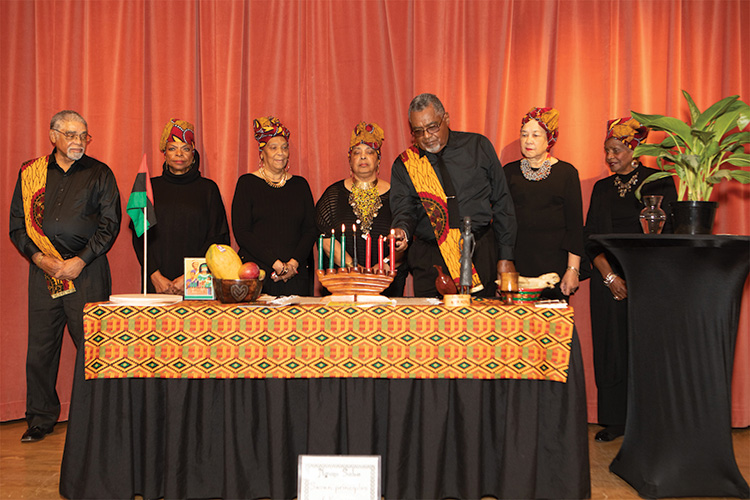 Muriel Hiller
PebbleCreek's Just Folks Association held its Kwanzaa Brunch celebration on Dec. 18, 2019, in the Eagle's Nest Ballroom with 121 members of various PebbleCreek clubs and friends in attendance. Kwanzaa, a seven-day celebration of community, family, and culture, was held as a one-day celebration in an attempt to share African-American culture with neighbors and friends. All female attendees were escorted into the ballroom by Just Folks male members dressed in all-black with African scarves over one shoulder.
The purpose, history, and practices of Kwanzaa were explained by Melvin Shipp, Master of Ceremony. The lighting of the Kinara Candle was performed by the committee members who wore African inspired head wraps and scarves. The African practice of pouring water into the earth in memory of ancestors was performed acknowledging the 25 deceased Just Folks members using a plant as symbolic of the earth. The Kawambe-Omoale dance troupe from Phoenix performed authentic African dancing and engaged in audience participation. Several PebbleCreekers joined in the dancing. Rico Burton, a Black Theater Troupe actress named Lady B, gave a rendition of Kwanzaa's seven principles using the succulent cacti as symbolic of Just Folks membership's age groups.
Awards were given to past Just Folk Presidents for their service; Cynthia Bush for chairing past Kwanzaa celebrations and serving as Educational Liaison person; Mary Thomas for her efforts in improving racial harmony at PebbleCreek through her involvement with the Comity Group, and Roberta Medina for her vision as founder of Just folks.
Muriel Hiller, chairperson, said feedback received indicates a good time was had by everyone while simultaneously learning more about Kwanzaa and the Just Folks Club. Kwanzaa Committee members were: Arlene Banfield, Clyde Dowell, Brenda Early, Pat Rodgers, Melvin Shipp, Paulette Stone, Patricia and Michael Wilson. Just Folks Executive Board Members Phylice Walton, President; Linda Watters, Vice Prescient; and Nadine Martinez, Secretary; also participated in the program.