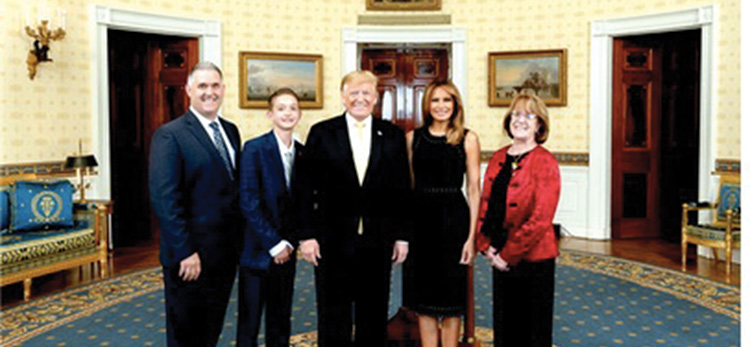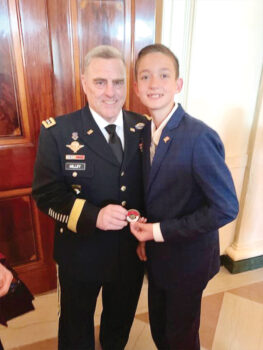 Dianne Wiegand Baczynski
In 1945 when I was nine years old, with four brothers and sisters younger than I, my 29-year-old mom answered the door to two military men standing there! Their message was that our father, PFC Frank H. Wiegand had been killed in the Philippines. I have no memory of that day, so I would guess I put it away, but today I still mourn him! I never heard a complaint from that day forward on the single-mom role Mom was to endure raising us.
In 1996 I was reading an article in the magazine section of the Sunday paper which mentioned a woman, Ann Mix, who had organized a group called "AWON" (American War Orphans Network). It seemed to be what I was looking for so I contacted her to join them. To this day we now have 500 members and are still growing! A few years back, former President Obama honored the Gold Star Families with a breakfast, then later President Trump changed the affair to an evening reception. I was so honored to be one of the recipients of this year's event in May at the White House.
When I got my invitation to the affair, I was told I could bring two blood relatives related to my dad, so decided on our son Michael and his son Max who is 12.
Other guests were VP Pence and his wife, and every member of the Joint Chiefs of Staff plus their wives. The Military Orchestra and a harpist were present, as well as waiters passing by with champagne and finger food. We were free to wander to two floors of such memorable rooms plus we were allowed to take pictures freely! We were in awe of all of the paintings of past Presidents and their wives, their china, and other items we only have read about. We had time to visit with other families there and share our experiences. I mentioned to them, how times have changed with so much emotional help for them as we had none of that! We then gathered in the room they use for broadcasts to hear the President speak about the men we lost, how much they are honored with their service and giving up their lives for their country. These 50 families included the men lost in WWII, Korea, Vietnam, Afghanistan, and Iraq. Each family stood up when their father's name was called and they lit candles for each man. It was truly humbling, emotional, and memorable! The staff then had the candles wrapped and waiting for us when we left! After 75 years we finally had the opportunity to officially honor those brave men. I know both my mom and dad together were looking down on us and smiling.
A few facts about pictures, General Mark Milley, Chairman of the Joint Chiefs of Staff, gave Max a Challenge Coin after he spoke to him, what a wonderful man he was! His wife was with him taking pictures of him with each person he spoke to!
Each Chief of Staff was there mingling with the guests.
My father is buried in Manila alongside his comrades. In 2007 a group of us from Awon flew to Manila to view their grave sites, all beautifully maintained and cared for.
They also had a Memorial Day ceremony honoring all the men resting there. President Trump gave his quarterly salary to the Dept. of the Interior this year, which includes the National Cemeteries.