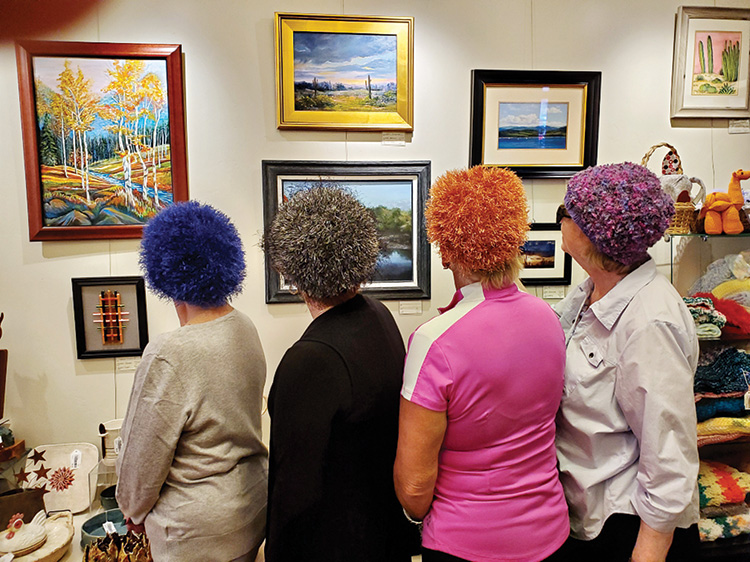 Sherry Blatner
Welcome to 2020! It has a nice ring to it. We made it through another holiday season, and now it's time to give thanks that the guests are gone and take time to pamper ourselves. Just the place to do that is in the Expressions Gallery. Make a date with yourself to explore the gallery without the crowds and to splurge on yourself and your home.
It's January, one of our colder months, so seek out a warm wrap or fun fur hat! Remember, if you purchase an item knit or crocheted by one of the ladies from Knimble Kneedles, the proceeds support local charities.
Relax with a good book authored by a neighbor, and enjoy a snack on a plate crafted by another neighbor. The self-pampering options are endless. Perhaps a new piece of jewelry will add some glam to your life. Try mixing and matching from the jewelry options—select a necklace by one artisan, a bracelet by another, and a pair of earrings by a third to tie it all together. Create your own style!
If there are babies in your family's future, browse the baby corner of the Gallery. There are beautifully hand-crafted baby blankets, sweaters, and hats for the youngest in the family. If you have little girls in the family, check out the clothing designed to fit the American Girl dolls.
Your purchases at the Gallery directly help to support the quality of the Creative Arts Center and equipment available for club use. Join us in 2020 and learn a new hobby. Try wood crafting, glasswork, pottery and ceramics, fiber arts, paper arts, painting, or beading. While in the Gallery, check out the list of upcoming classes and the dates the clubs meet. It's a friendly group, and we'd love to welcome you to the neighborhood!
Expressions Gallery and Gift Shop is inside the Creative Arts Center at Tuscany Falls, south of Toscana's Restaurant. It is open Monday through Saturday, 9 a.m. to 4 p.m. (closed for lunch from 12:30 to 1 p.m.).